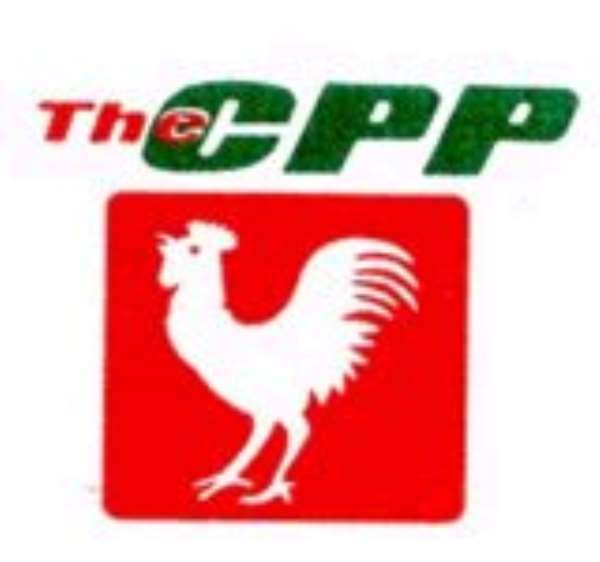 The Convention People's Party (CPP) parliamentary candidate for Subin in the 2004 elections is calling on the party's Central Committee to hasten its re-organisation process.
Mr Godfred K. Appiah says the party currently has no structures on the ground and is, therefore, non-existent in virtually all the districts and rural communities.
Speaking to the Ghana News Agency in Kumasi on the need to re-organise the party, he said some of the regional offices were not being properly organised to undertake any effective work.
"If the party must become viable, formidable and vibrant, then there must be a massive re-organisation from the ward level to constituency and regional levels", he said.
"There should be election of officers at the ward, constituency and regional levels before we think of going to congress," Mr Appiah added.
"How long will the party have to wait for the merger with the People's National Convention (PNC) before going to congress," he asked,
Mr Appiah reminded the national executive that they had only two and a half months for the year to end.
He said the party should, therefore, be able to re-organise all the structures before the end of the year to enable it to go to congress to elect national officers and presidential candidate.
Mr Appiah suggested that the CPP elect its presidential candidate early enough to be marketed ahead of the 2008 elections.
He said to achieve such objectives required total unity and peace therefore, party members, supporters and sympathizers must bury their differences and petty jealousies and work towards winning the 2008 elections.
Mr Appiah appealed to the national executive to give the youth in the party the chance to take up some key positions to move it forward, adding, "The youth form a solid block in the party and should, therefore, be given the chance to be in the fore-front to prove their worth, while the elders support them with their experience."
"Even though the elders have very important roles to play in the party, they should give the youth, who are more active and dynamic, the chance to be at the forefront to move the party forward," he said.