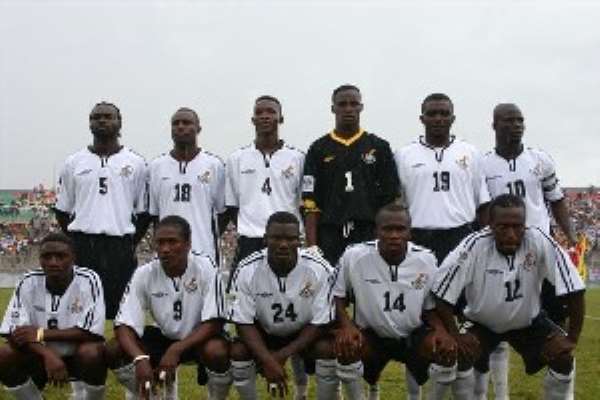 Two decades ago, when people were forecasting that an African team would win the World Cup by the end of the century - in the event, 1998 was to come and go with the only African side to survive the group stages being Nigeria, whom Denmark promptly beat 4-1 - those uppermost in their minds would have included Ghana. Not only had the Ghanaians won their fourth African Cup of Nations, setting a record which Cameroon and Egypt have since equalled but not exceeded; they were producing young players capable of taking leading roles in the European game, such as Abedi Pele in France and Tony Yeboah in Germany. So it was a long wait that ended yesterday. True, Ghana did not actually win the World Cup, but to qualify for the first time was a step towards fulfilment and Radomir Dujkovic's Black Stars took it with a 4-0 win in the Cape Verde capital of Praia.
Thus the celebrations were renewed in Accra and Ghana's second city of Kumasi, where five weeks ago a victory over Uganda finally persuaded the mass of the country that all those years of gazing enviously at the campaigns of Nigeria and Cameroon to the east and Senegal to the west were over. Some Ghanaians still insisted on holding their breath until the arithmetic was done. ''A word of caution,'' Farayi Mungasi of the BBC's African service told his audience. ''I have never seen a black star - and no one else I know has.'' But no more jokes were required to break the tension after Michael Essien and company had completed their task on the Atlantic islands.
How was it done? Another observer of Ghanaian football, Dursimi Thomas, directed me back to the Black Stars' opening group match in Burkina Faso. It was a 1-0 defeat. They have not lost since. At the same stage of the 2002 campaign, Ghana began by thrashing Sierra Leone 5-0 but then succumbed at home to Liberia and never recovered. They clearly had to overcome a fatalism born of successive disappointments in order to progress and this has been done. Furthermore - and also to the credit of their Serbian coach - they belie their nickname in discouraging the star system. Essien apart, they have a noted captain in Stephen Appiah, for whom Fenerbahce had to pay Juventus nearly £6 million this summer, but no one expects a red carpet and Dujkovic's disdain for mere reputation is evident in the banishment from the squad of the former Bayern Munich defender Sammy Kuffour, now of Roma, in spite of his apology for making false claims about a previous omission. It is all a far cry from the days when attempts to placate Abedi Pele and Yeboah - diverse personalities from different tribes - used up so much energy.
Little in African football, though, is done without government support and Ghana's President, John Agyekum Kufuor, an erstwhile chairman of the Kumasi club Asanti Kotoko, has encouraged sponsorship by banks, gold-mining companies and breweries. The relationship between money and achievement is as significant in Africa as Europe and Kufuor's influence made sure at the outset of the qualifiers that incentives would be in place. How much of an impact Ghana can make in Germany is not clear; they have topped a relatively weak group and benefited from the woes of South Africa, the next World Cup hosts. The truth, according to Dursimi Thomas, is that Dujkovic's men have stood where more gifted squads have fallen. Just as Djukovic's Rwanda qualified for the last African Cup of Nations against more formidable odds, including the wounds of a terrible war. But that is the lesson of modern football: to paraphrase the slogan of one of the Black Stars' sponsors, teamwork is good for you.