An Artist In Disguise And Criminal Conspiracy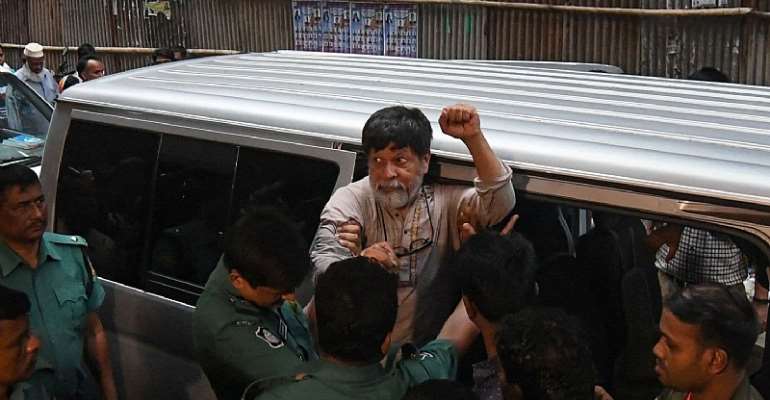 There is too much hue and cry in Bangladesh centering the arrest of a photographer named Shahidul Alam, who also runs a photo gallery in Dhaka, the capital city of Bangladesh. This man has grabbed the news headlines in Bangladesh ever since his arrest on sedition and treason charges following his well-planned interview with Qatar-based pro-Islamist television network Al Jazeera. The television channel had no shame in fooling its viewers by claiming to be interviewing this man over Skype. But, a careful scrutiny of the interview will easily prove that it wasn't on Skype instead it was shoot by a digital camera of broadcast quality and most definitely this had been uplinked from Dhaka via an SNG.
Shahidul (63), a teacher and student at the University of London obtained his PhD degree from the university in chemistry. Well, instead of pursuing his career as a teacher or an expert of chemistry, Alam decided to become a photographer. After all, there are lots of scopes of chemistry in photography, which might have helped this 63 year old gentleman looking like a young man. But, most important thing is, Shahidul Alam is also a superb actor. Following his arrest, he has been all along acting in front of the media cameras pretending as if he has been seriously beaten up by the Detective Branch of Police. Well, he definitely needs this acting skill as he has been working as an agent of British MI6 for many years and has also learnt the art of deception. Shahidul deserves the Oscar Prize for such excellent acting skill.
No one possibly has any idea that his photo gallery named Drik was rather a meeting place for the MI6 and also a secured place, where undercover officers of the British espionage agency could meet local contacts. In fact, for years, Drik Gallery has been the epicenter of MI6 activities. From there, undercover agents of MI6 were plotting conspiracies against Bangladesh and even they were secretly maintaining connections with the separatist groups inside India. But, very surprisingly, following his arrest Frontline Defenders issued a statement titled 'Shahidul Alam falsely charged and tortured'. In this statement, the organization said: "On 5 August, human rights defender Shahidul Alam was detained at his home by members of the Detective Branch of Police. He appeared in court on 6 August, charged with "spreading propaganda and false information against the government". During the session, the human rights defender informed the Court that he had been tortured in custody.
"On 5 August, in the afternoon, Shahidul Alam was attacked by an armed group near City College in Dhaka while he was recording attacks on students protesting for safer roads. Soon after the attack, he took shelter inside a nearby guest house and narrated the incident live on his Facebook page. Later that evening, at approximately 10:30 p.m., the human rights defender was forcefully taken from his Dhanmondi residence by a large number of plainclothes men who identified themselves to building security as members of the Detective Branch of Police. His lawyer, family members and friends later arrived at the Detective Branch office, but were not provided with any information as to his whereabouts.
"Following a press conference with Shahidul Alam's family and lawyer on 6 August at 11:30 a.m., the human rights defender's partner was informed that Shahidul Alam would appear in court that afternoon. At approximately 5:00 p.m., Shahidul Alam was taken to the courtroom, barefoot and walking with difficulty. During the session, he informed the Court that he had been tortured in custody and that police had forced him to wash the blood from his clothes and put them on again. Rejecting the bail application submitted by his lawyers, the Chief Metropolitan Magistrate in Dhaka ordered the human rights defender's remand in custody for seven days on charges of "spreading propaganda and false information against the government", filed against him under the controversial section 57 of the Information and Communication Technology Act. On 7 August 2018, due to his medical condition, the High Court bench of Justice Syed Muhammad Dastagir Husain and Justice Md Iqbal Kabir asked jail authorities to immediately send the human rights defender to Bangabandhu Sheikh Mujib Medical University (BSMMU) for treatment.
""Front Line Defenders strongly condemns the arrest and charges against Shahidul Alam and is gravely concerned by reports of his torture in detention. Bangladesh's remand detention procedures often result in the torture and abuse of human rights defenders.
"Front Line Defenders urges the authorities in Bangladesh to:
"1. Immediately and unconditionally release Shahidul Alam and drop all charges against him, as Front Line Defenders believes that he is being held solely as a result of his legitimate and peaceful work in the defence of human rights;
2. Take all necessary measures to guarantee his physical and psychological integrity and security and integrity, as well as that of his family and ensure that the treatment of Shahidul Alam, while in detention, adheres to the conditions set out in the "Body of Principles for the Protection of All Persons under Any Form of Detention or Imprisonment", adopted by UN General Assembly resolution 43/173 of 9 December 1988;
3. Carry out an immediate, thorough and impartial investigation into any instances of torture against Shahidul Alam with a view to publishing the results of any such investigation and bringing the perpetrators to justice in line with Bangladesh's international human rights obligations;
4. Guarantee in all circumstances that all human rights defenders in Bangladesh are able to carry out their legitimate human rights activities without fear of reprisals and free of all restrictions including judicial harassment.
Dhaka's leading daily newspaper, The Daily Star (which also is known to be one of the many top contacts of MI6 and a promoter of Shahidul Alam published a news item titled 'Over 400 Indian artists, photographers give statement in support of Shahidul Alam' In this news item, TSD wrote: Over 400 photographers, filmmakers and artists in India have demanded "immediate, unconditional and honourable" release of noted photographer Shahidul Alam from detention.
"We, the undersigned, photographers, filmmakers and artists, in India, are deeply concerned and agitated by the news of the arbitrary and unreasonable detention of our colleague, friend and mentor, the photographer and educator Shahidul Alam, in Dhaka, Bangladesh, under provisions of the draconian ICT act," according to a statement released by Indian artist on social media.
The artists refuted the allegation that Shahidul committed any crime by highlighting the utterly reasonable and peaceful protests by schoolchildren and young people in Dhaka against the lethal malpractices in the transport sector that have resulted in unnecessary deaths.
"Legitimate criticism of, and disagreement with Government action is the inalienable right of every citizen in a democracy, and if that is what Shahidul Alam is being prosecuted for then it is a worrying sign that the state in Bangladesh is slipping towards autocracy," the artists said.
The artists also expressed concern over the reports that "when Shahidul Alam was produced for custody he showed signs of physical harassment that could amount to torture".
Around 438 artists from India have signed the statement so far.
Kathmandu Post in a news item titled 'Nepali journalists appeal for Shahidul Alam's release' wrote: Aug 6, 2018-Nepali journalists have demanded an immediate release of famed Bangladeshi photographer and cultural activist Shahidul Alam from the detention of Dhaka Metropolitan Police.
Shahidul was picked from his home by two dozen policemen in plain clothes on the evening of Sunday (August 5), for a Facebook post about ongoing student demonstrations in Bangladesh. Earlier in the evening, Alam was live on his Facebook describing an attack on him allegedly by ruling party activists as he was taking a video of the demonstrations.
Issuing an appeal for Shahidul Alam's release on Monday, the Nepali journalists stated the incarceration of Shahidul reflects the trend towards stifling dissent that has overtaken large parts of the Subcontinent. "This trend needs to be reversed all over, and we appeal to the Sheikh Hasina government to understand what Shahidul means to so many people in and outside Bangladesh," the statement noted.
Kathmandu-based senior journalists noted that Shahidul Alam is a pioneering South Asian activist, as founder of Drik, Pathshala South Asian Media Institute and Chobi Mela International Photography Festival. "He is a one-man institution who has sought to simultaneously inform the Bangladesh population and bind the people of South Asia through the exchange of news, information, photography and cultural energy," the statement read.
The statement was signed by journalist Akhilesh Upadhyay, Bharat Dutt Koirala, Bikas Rauniar, Chandra Shekhar Karki, Gunaraj Luitel, JB Pun Magar, Kanak Mani Dixit, Kiran Nepal, Kunda Dixit, Mani Lama, Narayan Wagle, Nayantara Gurung Kakshapati, Prateek Pradhan, Rajendra Dahal, Rajesh KC, Subhas Ghimire, Subina Shrestha, Sudheer Sharma and Usha Tititkshu.
Few more organizations including Freemuse has issued statement demanding release of Shahidul Alam. Freemuse is an independent international organisation advocating for and defending freedom of artistic expression. It claims to believe that at the heart of violations of artistic freedom is the effort to silence opposing or less preferred views and values by those in power – politically, religiously or societally – mostly due to fear of their transformative effect. With this assumption, we can address root causes rather than just symptoms – if we hold violators accountable.
It says, "Our approach to artistic freedom is human rights-based as it provides an international legal framework and lays out the principles of accountability, equality and non-discrimination, and participation.
To accomplish such fundamental change, we monitor and document violations of artistic freedom, expose laws and policies that enable and sustain these violations, and leverage evidence-based advocacy for systemic structural changes at international, regional and national levels. Working with partners, artists and activists in the global south and north, we campaign for and support individual artists, focusing on women artists and other vulnerable groups of artists. We facilitate and grow locally-owned national coalitions in their campaigns and capacity building to monitor and defend artistic freedom.
People may get confused seeing such a series of statements by various organizations and even journalists [Shahidul Alam is not a journalist]. But, let me disclose some unknown fact. The Daily Star is the syndication partner of Asian News Networks (ANN). The newspaper editor took personal initiatives in using the contacts of ANN in reaching journalists and social activists including rights groups in the world in getting statements in favor of Alam. What is the secret behind such over enthusiasm of the Bangladeshi newspaper? Well, it is almost an open secret that the editor of the daily is also having connections with MI6 and he might be feeling a bit nervous at the arrest of Shahidul Alam as some unknown fact about the conspiracy against the present government is Bangladesh would get exposed if Shahidul is properly interrogated. TDS editor along with some other MI6 contacts have been conspiring in unseating Bangladeshi Prime Minister Sheikh Hasina and once again seize the power through a silent military coup. They even had conspired killing the Bangladeshi Prime Minister or putting her government into extremely political jeopardy by murdering the imprisoned leader of Bangladesh Nationalist Party and former Prime Minister Khaleda Zia.
Bangladeshi intelligence has very little knowledge about Shahidul Alam and his activities as well as the activities of the British espionage agency. But this time they have very rightly caught a huge fish and if they can exert their full skill, bone chilling information on a plot of coup will get revealed.
British media are also showing over enthusiasm in setting Shahidul Alam free from the prison. After all, none can avoid the influence of MI6. Moreover, TDS team are working relentlessly in spreading the news on this MI6 agent and are pursuing the international media, especially the European media in getting coverage in favor of the detained 'photographer'.
I already have talked about chemistry in photography. Shahidul Alam is rumored to have 'warm relations' with a number of female celebrities in Bangladesh ncluding Joya Ahsan.
Other organizations and individuals who have issues statement in defence of Shahidul Alam include DemocracyNow, Artsome.co, freedimensional.org, Richard Hartley etc.