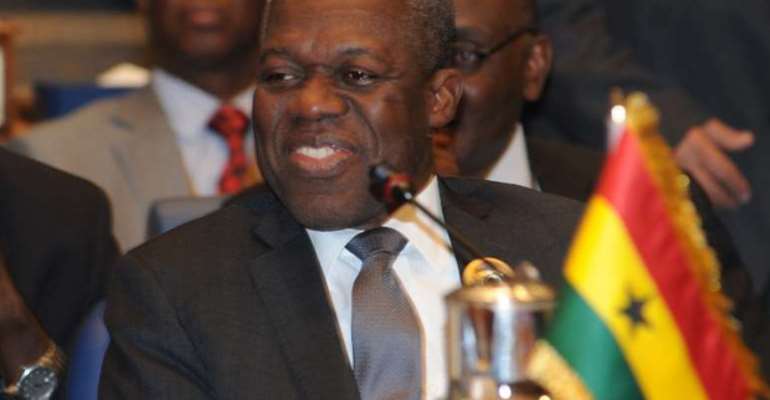 Our former Vice-President, Paa Kwesi-Amissah Arthur, aka Wofa PK, started the return journey to his final abode last Thursday. I'm sure he has already reached home and is busily narrating stories from the land of the living to our compatriots in Samanfoland.
In my mind's eye I see Agya Atta seeking explanation from Wofa PK on how the eagle-headed Umbrella allowed itself to be trampled upon by the Great Elephant. I also see Wofa Jake eagerly waiting for his turn to hear how President Nana Dee and other members of his political family are faring.
I initially did not want to write about the passing of Wofa PK because I did not want to be a hypocrite. Many have eulogised the man. I agreed with some and disagreed with others.
But I felt obliged to keep my thoughts in my head since ours is a society that believes in glorifying the dead, even if the contrary is the obvious truth. "Never speak ill of the dead" is our silent code.
With Aunty Matty's innuendo at the funeral ground, the jinx of being barred from speaking one's mind about the dead is finally broken. So I am now free to 'scatter the bad mind' of the dead, even if he was a former vice-president.
Most of the thoughts in today's piece are not knew. They've been expressed in this very column before when Wofa PK was in the land of the living. And because I'm no hypocrite, I will stick to my thoughts and dare to swim against the tide.
Wofa PK's academic credentials cannot be doubted by anyone. Neither can his competence as an economist be challenged.
All these feats notwithstanding, I will remember him as a vice-president who, as head of the economic management team, led the economy into a state of near comatose. It was under his watch that the Cedi began to run like Usain Bolt against its trading currencies.
I will remember him as a vice-president who failed to perform. Maybe his superior did not give him the space to operate. Maybe he tried to make an impact. But the bitter truth is that many of his compatriots saw him as an ineffective vice-president.
I will remember him as vice-president who failed to show his economic prowess when challenged by an opponent. Call me naive or whatever you wish, his failure to answer the 170 questions portrayed him as lacking the capacity to withstand his compatriot from the Great Elephant stock. Maybe the impression is erroneous; but trust me when I say that is how many of his compatriots interpreted the situation.
Is it any wonder that President Ogwanfunu referred to the questions in his tribute to the late Wofa PK? But please, I'm confused oo! What does President Ogwanfunu mean by Wofa PK being vindicated by the questions? Mahama, you are causing confusion in my mind oo, so please come clear.
I refuse to buy the perfect picture being sold to us about Wofa PK. Yes, he was soft-spoken. Yes, he was a gentleman. But he cannot deny throwing verbal punches against his political opponents.
I vividly remember tongue-lashing him in this very column for lampooning then Candidate Nana Dee about his height. I took the opportunity to admonish him not to throw stones when he was living in a glasshouse – considering the fact that there were stories about him using his pastime to engage in amorous relationship with rotten bananas. (Go for 29th September, 2016 edition of the Daily Guide newspaper, or google "Wofa PK's shenanigans and Fiifi's propaganda Et Al!" if you doubt me.)
Yes, many liked Wofa PK's personality but detested his political beliefs and inclinations. So does a political opponent become a hypocrite for praising his personality? He may have been a good person, but some of us can only remember him for political reasons. If that makes us hypocrites, then too bad!
While we pray for Wofa PK's soul to have peace with its Maker, I will plead with all and sundry to forgive Aunty Matty for the outburst. To lose one's better-half is not a pleasant situation. And we all know what shock it can cause, don't we?
See you next week for another interesting konkonsa, Del volente!