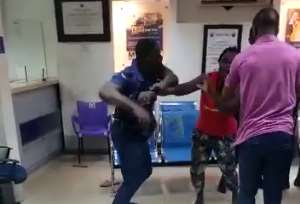 Ghanaians have very legitimate cause to complain about the low standards of customer care in Ghana.
Sadly, it keeps getting worse by the day. The disregard and disrespect for the lower class in business worsen.
Would the bankers have treated their VIP clients the way they called upon LC Frederick to handle Patience? This scenario is common in all facets of life in the Ghanaian corporate world and, it's worse in the public sector.
Companies employ people without Work Philosophy training for their employees (extensive orientation). Unfortunately, where customer care training is done, the intent often is simply to exhaust budget.
In most cases, certified trainers are not used as the HRs are not interested in outcomes and impact but 10% of the training budget (Selfish interest).
Even the mentality for which they call for training in itself is toxic.
In Ghana, customer experience is alien to the corporate world. Because employees go about their job by forcing smiles, they don't do it because the customer deserves better but rather it is a routine to keep.
I have met few certified and competent human capital development trainers and they lament about these same issues.
Today, almost everyone is a self-acclaimed trainer. Most HRs use classmates and friends just to exhaust training budgets. They care less about the impact on the human resources and customer effects.
Was that the best the Midland headquarters could have done in the given situation of the nursing mother, Pat? A customer without arms but a little baby?
We abuse responsibilities in this nation. There are situations where private security people are used as house boys (pound Fufu, wash their cars, run errands etc)
Was the police officer assigned to the bank to be called upon to beat unarmed women? Was the police officer assigned to be called upon to manhandle customers who might have issues? Was there not customer experience officer at the bank to have handled such issues? The most shocking in this situation was that, the banking staff not visible to offer help?
So, was it the case that none of them had emotional intelligence skills to have stepped in to salvage the situation?
Painfully, Patience had a legitimate right to express worry *however, the bank equally had the ethical responsibility to have exercised quality customer care experience.
The bank must take actions against all workers who looked on. This event suggests that there wasn't teamwork at the bank, especially this particular branch.
I am so sure that there were more Christians among the bankers. So my question is, where was the Christian compassion which underpins emotional intelligence?
Certainly, there is more to be done by the majority in this country who lay claim to the Christian faith. We must change the corporate narrative of Christians.
I beg you, as you are shouting about this case, ask yourself deeply, are your actions any different from Officer Frederick's?
Are your attitudes any different from the ugly attitude of the bankers? This is evidence that our corporate space is a charade of professionalism.
I propose CEO and MDs of these Saving and Loans companies, as well as Start- Ups, should consider Work Philosophy training, Strategic Customer Experience, Strategic Team building and performance training, Enhanced Workplace Communication Training to boost corporate image and skills of their workforce.
HR and Learning & Development managers must think more about impact but not just how to exhaust training budgets.
At the centre of our business strategies should be the welfare of our customers.
Scofray Nana Yaw Yeboah Transformational Coach | Certified Professional Trainer | Author of Christian Corporate Model |
Lead Facilitator Zoweh Global Consult