MOC/KELNI-GVG Issue, Franklin Cudjoe Has Been Goofing - Nana Kwadwo Akwaa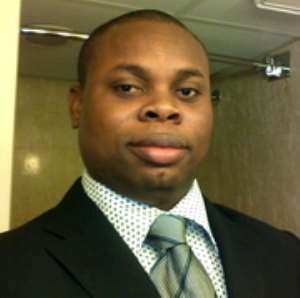 Franklin Cudjoe keeps tossing around on the Kelni-GVG issue like a lonely pregnant woman on her bed missing her husband. Franklin Cudjoe, please state your stand well and stop shifting the goal post because you are gradually losing your credibility, and also making a big mess of the hard earned reputation of IMANI, I doubt if IMANI is even in support of you on this issue.
Franklin Cudjoe meant to deceive Ghanaians many times with respect to this issue, and despite his exposure many times by MOC, NCA backed by GRA and the Telcos, he will not still back out early and avoid a disgrace. May be what has currently escaped Franklin Cudjoe is that; Ghanaians are wild awake now, most can easily read to understand so the intelligentsia can no longer deceive the populace; we are all "knowledge vigilante" now.
From the ongoing tussle, one can vividly see Franklin Cudjoe has an agenda, it looks like one never in the interest of the nation, but as an analyst, i do not want to presume a conclusion so I am waiting for the end to justify it, of which I certainly believe it will be soon.
More over, I have keenly followed/been following this debate from genesis, and with respect to all my research and readings so far from Franklin Cudjoe(minus IMANI), Bright Simons, MOC, Hon. George Andah, Hon. Ursula Owusu-Ekuful, Board of NCA, Contract Documents, Telcos and other epistles from unknown people, I can confidently conclude that the MOC under the leadership of Hon. Ursula Owusu-Ekuful has secured Ghana a better deal, a value for money one, and one going to add hugely to our economy through which will help Ghana's "Beyond Aid" agenda. While Franklin Cudjoe on the other hand can clearly be seen to be running around with a "Ghana Must Go"/"Efiewura Sua Me" bag full of misinformation with a clear intention to deceive and malign.