Six Candidates Vie For Odododiodoo Seat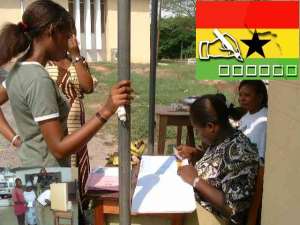 Six candidates have filed their nominations to contest the forthcoming by-election at the Odododiodoo Constituency.
They are Mr Christian Shanku Bruce, 63, for the Convention People's Party (CPP); Mr Walid Laryea, 37, Independent; Mr Jonathan Tackie Komme for the National Democratic Congress (NDC) and Mr Collins Nii Amah Issakah, 26 for the Democratic People's Party (DPP).
The rest are Mr Alex Nii Aryeetey Wiseman,37,Independent and Mr Lenox Sydney Kojo Asafoatse Mankattah,36,for the New Patriotic Party(NPP).
Shortly after the candidates had filed their nominations at the Ashiedu Keteke District Office of the Electoral Commission (EC)at James Town in Accra,the candidates were asked to ballot for their positions on the ballot paper.
The NDC candidate picked the first spot on the ballot paper,followed by the CPP,DPP,NPP,Wiseman and Walid. The filing of the nomination by Mr Walid was said to have come as a big surprise to the followers of the NDC, particularly those in the constituency,after the national leadership had assured its followers that it had reached a compromise with Mr Walid to step down for Mr Komme.
Some observers believe that the decision of Mr Walid to contest as an independent candidate could lead to the splitting of the NDC votes,moreso when Mr Walid is regarded as a force to reckon with.
Although the contest for political power in the country had always been a straight fight between the NDC and the NPP and the forthcoming by-election is not expected to an exception,the inability of the party to convince Mr Walid to step down could disturb the party's chances in the election.
Notwithstanding this headache of the NDC, the forthcoming poll would be a fierce contest between the NDC and the ruling NPP which claimed for strategic reasons,it had settled on the son of the late MP of the area,who incidentally was an NDC member.
Sources close to the NDC leadership said although it was disappointed with the decision of Mr Walid to go independent,it was certain to retain the seat in the by-election.
Odododiodoo is one constituency in the country where election since independence had been fiercely fought and the forthcoming by-election would not be an exception.