Feature on Musclemania.com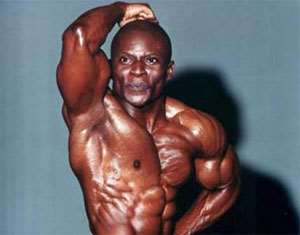 For those of you who don't know me or perhaps forget me, allow me to introduce myself. My name is Dr. Kofi Abrampah (a.k.a "Dr Kof"). I'm a nuclear/clinical pharmacist actively licensed to practice pharmacy in nine states, including, California, Rhode Island, Massachusetts, Maryland, Illinois, Florida, Arizona, Texas, and State of Washington". As a Nuclear Pharmacist, I compound or prepare radiopharmaceutical (radioactive drugs). These drugs are use for diagnosis and treatment of various medical conditions; ranging from heart, liver, brain, gastrointestinal, kidney, thyroid disease and some cancers. I enjoy playing soccer and played during my college years but these days bodybuilding is his main sport. Bodybuilding started as a hobby for me after I received my bachelor's degree. I started going to the gym after I graduated from school in 1996 and I needed to occupy my time. I entered his first show in 1999, and competed in my first Musclemania event in 2001 for better competition and more exposure. As you all know, Lou, Brian, and Musclemania throw the best natural bodybuilding shows on the planet. I won the Overall title in my first Musclemania event and earned my professional status. I finished second place in the 2002 MM World (my first MM Pro show) and I'm determined to take home the ultimate!!! I love competing against the best in the world and I thank MM for providing the venue for me to display my "masterpiece". Somebody once asked me "why you do what you do Dr Kof?" I'd like to share with you my answer to his question: "I consider myself a "bodysculptor" rather than a "bodybuilder", because bodysculpting to me is a form of an art and a lifestyle. Unlike bodybuilding, bodysculpting is based on the concept of building a healthier, happier, and more energetic "YOU", not just your body. Bodysculpting focuses on the mind, body, and soul ("YOU"). The word "body" in the art of bodysculpting is important because, it is your body the carries "You" around; and which is what people see when they see "You". However, what's the point of a good looking "body" when it is not healthy?
As you probably know, many "bodybuilders" resort to using anabolic steroids and many other harmful drugs to create their desired "body" without thinking about the short and long term effects of using such drugs. A true bodysculptor like me will never use anything that's potentially harmful to him/her. A bodysculptor eats the right foods and use the right nutritional supplements to sculpt his or her masterpiece. Yes, masterpiece! Because I believe there's no greater masterpiece than your own body; for when your body is no more, "YOU" cease to exist, at least on this beautiful planet.
Ironically, people will rather put "premium gas" in their cars than to put "premium nutrients" in their bodies. Bodysculpting is a concept that seeks to correct this irony. So, when you see a bodysculptor, you can be sure that he/she doesn't just look good on the outside, but every single cell is his/her body is in "top shape". (All things being equal) So the short version of my answer to your question is that, I "do this" because it is my lifestyle and I'm an artist of my life not just my body; and I intend to do this for the rest of my life."
Thanks for allowing me to share my thoughts with you. And, contact me anytime Send me a Message.
See you at Musclemania World on November 20!