'Don't Be Intimidated By Insults In Politics'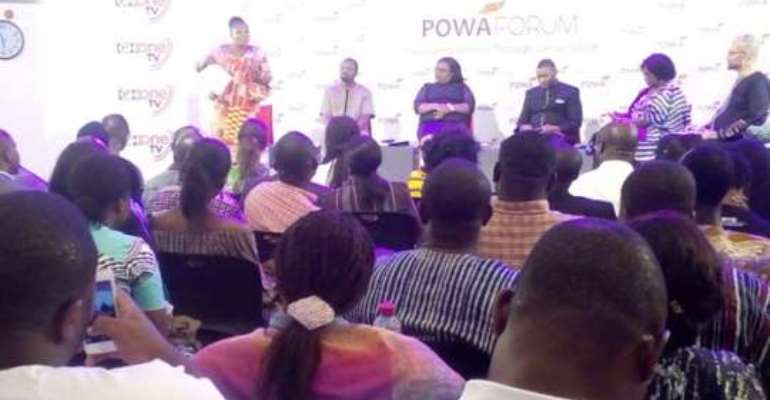 Ms. Christine Churchur, the Board Chairperson of the Ghana National Gas Company Limited, has called on women to be bold and get involved in governance issues and never be cowed by insults from their male opponents.
She said many women are willing to go into mainstream political governance but due to insults and name calling, they shun away, contributing to the decline of women in the country's political dispensation.
Speaking at a forum on 'why there are fewer women in politics' organised by the Progressive for Women Advancement, she said the name calling was meant to prevent the women from getting involved into politics and urged the women to be strong and ignore that assertion.
She was of the view that, the political environment in the country makes it difficult for women to get involved into politics, because the whole democratic system was dominated by men.
'I see politics like a marketing space to sell your ideas to the public, and that women can sell better than their male counterpart when they are empowered to do so since women today are more educated than before', she added.
She advised women aspiring to be politicians to discuss the issue with their husbands in a decorous manner and try to convince them to support them to prevent any form of altercation between them.
Ms Churchur said there is the need to identify young potential ladies to inspire and empower them to take up leadership roles in society because many of them were willing to get involved but needed a little push and encouragement.
Nana Oyi-Lithur, former Minister for Gender, Children and Social Protection, said for women to be in politics, they need to have a thick skin to accept every criticism that comes their way and do the right things because it was not a smooth path to walk on.
She said the adoption of the affirmative action bill would help address the low participation of women into politics and encourage the participation of marginalised groups.
Professor Ellen Bortei-Doku Aryeetey, an Associate Professor of Sociology at the Centre for Social Policy Studies, University of Ghana, said the leadership role for women must begin in the early stages to prepare their minds for the tasked ahead.
Dr Vladimir Antwi Danso, Director of Academic Affairs at the Ghana Armed Forces, attributed the low participation of women in politics to the structure of the country's political system where women are disadvantaged.
He said until the structure was changed, there would be a decline in women representation into politics.
Dr Lawrence Tetteh, an International Evangelist, said the Church must play its role of grooming young potential women to take up leadership role.
He expressed concern that the Ghanaian politics was seen with an approach of violence than dialogue and urged all to be tolerant and give the opportunity for women to also take up leadership positions.
GNA
By Kodjo Adams, GNA