Migrants dice with death on flimsy boats and in the desert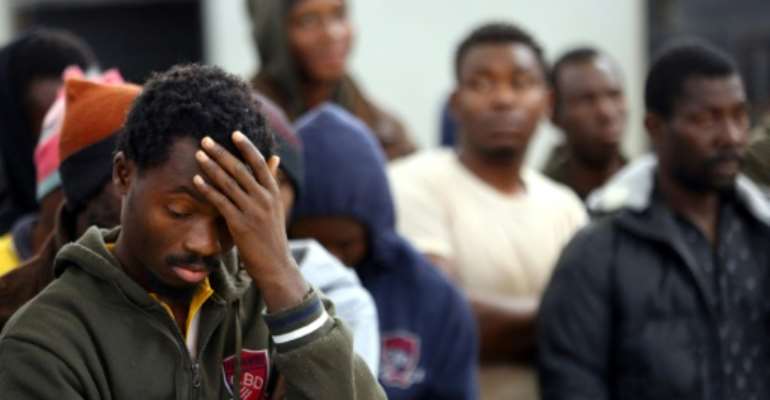 Zawiyah (Libya) (AFP) - Maria gave smugglers all her family savings and crossed three countries and the searing Libyan desert, but when she finally boarded a boat for Europe her dream was swiftly shattered.
She was 24 and pregnant with her second child when she left Liberia with her husband and their three-year-old son.
The family passed through Guinea and Mali before crossing southern Algeria to reach the Libyan desert.
"The smugglers took all our money" -- more than $2,150 (2,000 euros), she said.
"We spent four days in the desert. People died of thirst and the sun in the back of the truck."
They finally arrived on the beach at Sabrata, 70 kilometres (45 miles) west of Libya's capital Tripoli, a key departure point for migrants making the perilous Mediterranean crossing to Europe.
They immediately boarded an inflatable boat after paying smugglers about 500 Libyan dinars (around $85, 80 euros at black market rates) for each family member.
But the subsequent voyage was short and ended abruptly.
Their flimsy craft was intercepted by the Libyan coastguard and they were escorted to a detention centre in Zawiya, a port town between Sabrata and Tripoli.
It was there that Maria finally gave birth.
Today, she is locked up with her baby and son, along with 20 other women and children.
Her husband is detained in a cramped cell nearby with dozens of other migrants.
Their story is similar to that of thousands of sub-Saharan migrants who make desperate attempts to reach Europe via war-torn Libya.
The country has become a major transit point for migrants looking to cross the Mediterranean with, according to the UN's International Organization for Migration, between 700,000 and a million people in Libya awaiting their chance.
Libya also has more than two dozen reception centres where hundreds of migrants are being detained in appalling conditions.
Harrowing journey
Smugglers operate openly in the chaos that followed the fall of longtime dictator Moamer Kadhafi in 2011.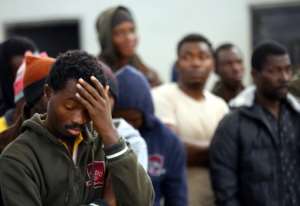 African migrants who were either rescued from the Mediterranean Sea or prevented from crossing to Europe by Libyan coast guards rest at a detention center in Zawiyah, 45 kilometres west of the Libyan capital, Tripoli
Moussa Ouatara, 29, headed to the North African country from his native Ivory Coast.
He had to pay $195 (180 euros) to reach the transit point of Agadez in Niger's central desert, then a further $490 (460 euros) to reach Sabrata with a group of other Ivorians.
He too spoke of a harrowing journey across the Libyan desert.
"There were deaths," he said. "They died of hunger and thirst. There was no water or food."
After paying more money (230 euros) to cross the Mediterranean, his boat was intercepted by the Libyan coastguard, who took him to Zawiya.
"I haven't got any money for another crossing attempt," he said.
Abu Bakr Mansary from Sierra Leone spent several months in the Libyan desert towns of Sebha and Gatroun, transit points for many clandestine migrants from sub-Saharan Africa.
The 23-year-old said he had worked there to save up for his crossing attempt, but his journey ended when the inflatable boat he had boarded with dozens of other migrants suffered a puncture.
He said he clung on for 17 hours before being rescued by the coastguard.
"It was not easy, it was really crazy," he said.
The head of EU border agency Frontex in February criticised charities for rescuing migrants ever closer to the Libyan coast, saying this encouraged traffickers to force ever more migrants onto unseaworthy boats.
Cheaper boats
Fathi al-Far, who runs the reception centre in Zawiya, said rescue boats operating between Libya and Italy's Lampedusa island were helping smugglers and making crossings even more dangerous.
"The (migrants') boats no longer have to last 24 hours so they can reach Lampedusa, as in the past," he said.
That has prompted smugglers to use cheaper, flimsy inflatable boats, putting migrants at even greater risk, he said.
The lower costs have also slashed the price migrants pay for a crossing, encouraging more to try their luck.
"For the same reason, there's no longer a 'migration season'," Far said. "People are now leaving at any time, even in winter."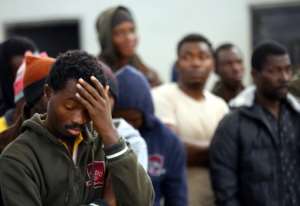 African migrants who were either rescued from the Mediterranean Sea or prevented from crossing to Europe by Libyan coast guards sit at a detention center in Zawiyah, 45 kilometres west of the Libyan capital, Tripoli
On April 23, an Italian prosecutor was quoted by La Stampa newspaper as saying charity-run boats rescuing migrants were colluding with traffickers in Libya.
Sicily-based Carmelo Zuccaro said there was evidence of "telephone calls from Libya to certain NGOs, lamps that illuminate the route to these organisations' boats (and) boats that suddenly turn off their (locating) transponders".
Marouane, a 26-year-old Moroccan, says he was saved from "certain drowning" on a crossing attempt weeks ago.
He said he had "seen death" on the sea after his boat started taking on water. But he is determined not to give up.
"As soon as I'm out of here, I will set off by sea again for Europe," he said.