Are Ghanaian Women Capable of Handling Higher Offices?
Opinion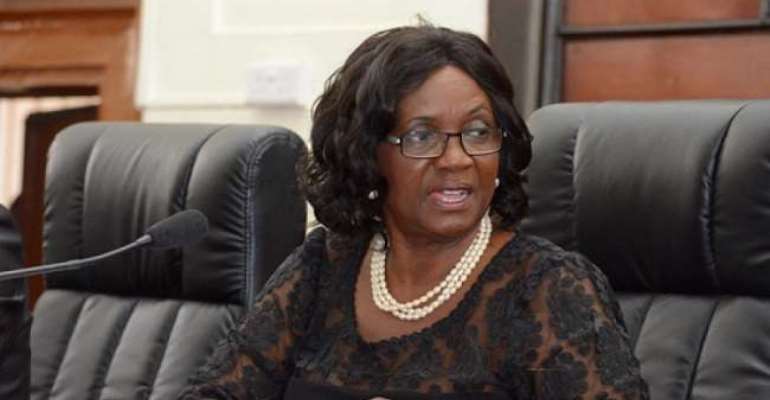 Women in general are more trustworthy to perform duties of higher offices to appreciable expectations than men provided they have the same qualifications and expertise as their male counterparts. This has always been my conviction because in such positions of trust, they have always been fair and firm unlike men who easily succumb to the persuasions of beautiful damsels to do the unthinkable.
Have the young Chinese ladies in Ghana not wooed the hearts and minds of some supposedly powerful men in Ghana through the offer of sex to get free licence to wreak havoc on Ghana's ecosystem through unrestrained, but absolutely illegal surface mining popularised in Ghana as galamsey?
A married woman in a higher position will never do as the men do to undermine their own authority, ego, trust reposed in them by the citizens and the integrity of Ghana as a sovereign State. Subsequently, I would have in any day any time voted for a woman to occupy a position that a man of same qualification would contest her for.
Unfortunately, the performance of four women in Ghana in their higher positions have left a sour taste in my mouth, if not left me agape. This is the very reason why I am putting out this publication to find out from the general reading public if Ghanaian women are indeed not capable of handling higher positions.
First, the retiring Chief Justice, Mrs Theodora Georgina Wood, concluding from empirical observations, has performed abysmally. Under her watch, the Ghana judiciary service became too corrupt. She was always decrying the corruption that had become part and parcel of the judiciary. She was behaving like a person with a stick in hand but refusing to use it to defend themselves when being attacked by a wild dog bearing its strong canine and incisor teeth at them.
Could she not have disciplined the erring and/or corrupt judges, lawyers and court clerks/registrars? Had she not always bemoaned the clerks taking bribes before filing away or retrieving a person's (litigants) file regardless of their victims oftentimes being poor? The clerks by their deplorable attitudes had often contributed to the unnecessary adjournments or delays in hearing and ruling on cases.
Had she not the powers to discipline the judges until Anas Aremeyaw Anas stood in, thus, could she not have taken the necessary steps as the constitution and other judicial powers vest her with to address the canker long before it got out of control? All the ongoing despicable acts of mob justice in Ghana with the attendant broader reprehensible consequences; ramifying institutional corruption, armed robberies etc., can be partly blamed on her because of her actions and inactions that have made the Ghana judiciary a laughing stock.
Once the judiciary loses its effectiveness, it gives birth to all forms and shapes of lawless activities hence the lynching, brazen armed robberies, Fulani menace, some police and military personnel involving in robberies and engaging themselves in broad daylight acceptance of bribes and the on air insults going on in Ghana at the moment.
The Chief Justice, Mrs Theodora Georgina Wood, retires today, Thursday, 8 June 2017 same day as the British go to the polls to elect their Prime Minister and Members of Parliament of which the Prime Minister's fight is between Mrs Theresa May of the Conservatives (Tories) and Mr Jeremy Corbyn of the Labour Party.
Mrs Betty Mould-Iddrisu was once the Attorney General in the late President Evans Atta Mills' NDC-led government. She defied the ruled modalities of a Financial Court/High Court judge which had specified how to pay a claimed judgement debt to one Alfred Agbesi Woyome, a self-styled major financier of the National Democratic Congress (NDC), the then ruling political party.
The judge had directed that the payment of the judgment debt to Woyome be staggered. This was to oblige Woyome or his accusers to produce certain documentations before the entire debt owed him was finally settled. However, Mrs Betty Mould-Iddrisu went behind the judge to negotiate a one-off sum payment instead of the three-time staggered payments as directed by the judge.
In the end, it was discovered that Alfred Agbesi Woyome had simply duped the nation for he had never signed a contract with, nor worked for, the government, to merit the GHS51.2 million judgment debt paid to him.
Interestingly, Mrs Betty Mould-Iddrisu was fingered or alleged to have taken a share of the loot by Woyome, the 21stCentury award-winning swindler in Ghana. The truth about this allegation will surely come to light in the coming days, weeks or months when Woyome will be properly fairly held to account in a court of competent jurisdiction.
Did Mrs Betty Mould-Iddrisu not pile pressure on then Finance Minister, Dr Kwabena Duffuor, to settle the later found to be alleged judgment debt owed Woyome? As the Finance Minister was nowhere near to succumbing to the irresponsible demands by Betty Mould-Iddrisu and Woyome because of his doubts hence resorted to communicating or sounding an alert to President Mills, a junior staff at the Finance Ministry, their lawyer or whoever, signed to authorise the payment of which Mrs Betty Mould-Iddrisu was allegedly a beneficiary. What a shame on her and the womb that conceived her!
This woman has duped the nation yet some people with Kwesi Pratt Jnr being a vocal defender, came out praising her for having the Englishman's accent when discoursing in the English language. Because she has the Whiteman's accent, she has the right to support a swindler and to flout a court's order with impunity. What a height of stupidity on the part of Kwesi Pratt Jnr and his like-minded NDC swindlers! No wonder in Ghana, it is the knowledge of English which is the criterion for a man's great learning!
The other one is the Attorney General and Minister for Justice under former President John Dramani Mahama's NDC-led government, Mrs Marietta Brew Appiah-Oppong. This woman woefully failed to serve Ghana and her people creditably. She intentionally dithered in prosecuting Alfred Agbesi Woyome by her repeated failure or that of her many State Attorneys to appear in court on dates scheduled for the hearing of Alfred Agbesi Woyome's case.
This led to the Financial Court Judge Ajet Naseem often sounding the alert that he would be bound to set Woyome free if the State Attorneys continued with their no-shows in court but always offering preposterous excuses and requesting for adjournments.
Finally, Judge Ajet Naseem, who was later found to have been a corrupt judge according as revealed by Ghana's ace investigative journalist Anas Aremeyaw Anas' conducted investigations into judicial corruption in Ghana, did not only discharge Woyome but also, acquitted him of any wrongdoing.
When former Attorney General Brother Martin Amidu (I call him brother because he has an aversion to being addressed as Honourable) took Woyome on at the Supreme Court with Woyome ordered to pay back the money to Ghana for wrongful representation hence having duped the nation, Mrs Marietta Brew Appiah-Oppong could not enforce payment. She was towing the line of her party; the party that assisted Woyome to dupe the nation to use the money so obtained to finance it and to share some among certain members of the party both within and outside the NDC government.
This same woman might have signed the most stupid petition by the NDC party faithful that culminated in the most clueless and incompetent President Ghana has ever had, former President John Dramani Mahama, exercising his prerogative of mercy powers to commute the four-month prison sentence of the Montie 3.
These notorious premeditating murderers of the Accra Montie FM, Salifu Maase a.k.a Mugabe, (the host of programme), Alistair Nelson and Godwin Gunn (the guests to the programme), had threatened to murder some specified Supreme Court judges and to arrange for a mentioned person to force-marry (rape) Chief Justice Mrs Theodora Georgina Wood. They were subsequently charged with contempt of court, tried and sent to Nsawam Medium Prisons for four months in addition to fines.
However, the NDC mounted an outcry that saw the President release these would-be murderers from prison, barely a month into their incarceration. The Attorney General was supportive of that move, whether she signed the petition or not or else, she would have advised the President against any such move but she didn't. She was a disgrace to the nation!
There is this final lady who is the worst of all. She is the person of Mrs Charlotte Osei, the Chair of the Electoral Commission. She had schemed to rig the Election 2016 in favour of the NDC and President/Presidential-candidate John Dramani Mahama. She was in secret meetings with NDC; always coming out with completely absurd regulations or propositions that were always supported by the NDC but spurned by the opposition parties and all discerning Ghanaians.
Many a Ghanaian across the socio-politico spectrum spoke against her actions, warned her against about to bring civil unrest into the nation by her obstinate, biased actions but she did not give a hoot. At a crunch when clarification was sought on over-vote and the use of biometrics as verification of the identity of a voter, she was not forthcoming with reasonable responses. One could clearly see that the woman was on a mission to rig the election for NDC. However, as man proposes and God disposes, one could see how this woman became confused and wondered how she could not achieve her goal when Ghanaians voted overwhelmingly for NPP and Nana Akufo-Addo with the NPP going before her to announce the election results 6 to 8 hours after the closing of the polls at 17:00 hours on Wednesday, 7 December 2016.
This woman would not say, Over-vote is when the number of ballots found in a ballot box at a polling station is greater than the number of actual ballots cast but was about to do worse than her predecessor, Dr Kwadwo Afari-Gyan. Afari-Gyan licked back his own sputum (phlegm) when he unethically reneged on his earlier given and embraced by all definition of an over-vote to come up with his classical definition when the heat was on his back.
Earlier, he had said to the whole nation that an over-vote is when the ballots in a ballot box are found at the time of counting to exceed the number of the ballots cast. This was long before the polling day and date. However, at the Supreme Court, during the election petition hearing, he talked about not even understanding over-vote himself and came up with his said nonsensical classical definition of "An over-vote is when the number of the ballots in a ballot box at a polling station exceeds the number of people on the voter register for that particular polling station.
Anyway, from the above cited instances, Ghanaian women are not coming across as handling higher offices creditably. They are in the same bracket as some of their male counterparts who yield in to persuasions by beautiful young women to do the unthinkable.
By the way, who was that NDC Government Minister bonking a Chinese woman in a video trending on WhatsApp and other social media?
To conclude, may I emphasize that I am now in two minds about Ghanaian women being capable of, and able to, handling the duties of higher positions creditably. It is up to the newly appointed Attorney General, Ms Gloria Akuffo and Chief Justice Ms Sophia Akuffo to prove me wrong or make me decide in favour of women.
Rockson Adofo
(Written on Thursday, 8 June 2017)