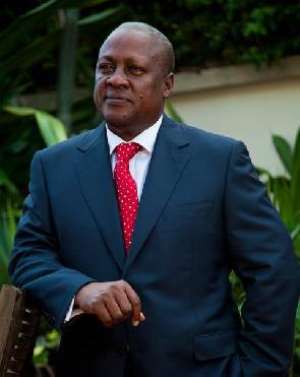 Hitler's main talent was his speech making prowess,and his speech skills appealed to Germans embittered and disillusioned by the outcome of the war.He denounced Jews, capitalists and vowed to rebuild German greatness. We all know what happened under his rule,he abandoned his promises and avowed principles and unleashed pain unprecedented in the annals of our global political history. Politics in Ghana is gradually gaining notoriety in the subregion because of the primitive style of politicking introduced into the system by this administration.
People have started chastising Professor Mills and John Mahama for introducing the "father for all" concept and their chastisements seem to be gaining support because of current happenings in the country, sacking of workers perceived to be sympathizers of the NDC in our civil and public institutions, harsh treatment being meted out to former appointees and functionaries of the NDC,and other primordial steps by this administration. We witnessed few of these primitive activities in 2009 but were not sanctioned and given official backing by the administration.
These acts of impunity led to the father for all concept introduced into our body politic by Professor Mills to protect the unitary character of our great nation. It is unfortunate the clergy, civil society organisations, intellectuals,social commentators who few years ago were constantly on the heels and toes of the Mahama administration, have suddenly gone quiet allowing the current administration to enjoy unlimited space and freedom in perpetuating their obnoxious policies and plans on innocent citizens. This phenomenon of terrorising and intimidating political opponents was introduced into our body politic ( fourth republic) by the NPP.
After the 2000 victory, leadership of the party and its supporters saw themselves as people who have lived too long in exile so must clear every space for their occupation. Young men who described themselves as Security Operatives took over our ports and many of our state institutions. Some Ghanaians ( workers) who out of fatigue and other reasons voted against the NDC were all sacked and that painful treatment meted out to these new converts of the Npp led to the abysmal performance of the Npp in 2004 after all the goodwill it enjoyed among Ghanaians. What our intellectuals, pastors,civil society organisations etc must know is that their continuous silence is dangerous for our democracy.
Democracies end abruptly because of the negative activities we witnessing on the political landscape, and it happened to us years ago.We shall all suffer if we carelessly allow fringes to occupy the political space,our freedom will be curtailed, we shall end up moving backwards, this is what we must all have in mind as we put up the absurd pretences and the ostrich game. It is unfortunate this administration is taking us back to the primitive days after Prof Mills through his calm posturing had moved us closer towards the middle line. The NDC folks who complained about the concept stand justified now which is unfortunate.
Professor appointed into his government persons who hitherto were perceived as anti- NDC, he appointed people based on competence, Mr Yamson and other achievers were brought on board to support the administration and he allowed some persons appointed by the Kufour administration to finish their tenure. Just after the 2008 election our papers published that Dr Paul Acquah was going to be kicked out but the man was allowed to finish his tenure and was later appointed alongside Kwabena Duffour,Henry Martey and Oteng Adjei to oversee the restructuring and development of Tema Oil Refinery and Ghana's crude oil supply.Professor Mills kept in office the Chief Executive of Ghana Cocobod who was appointee by Kufour, and allowed Mr Bediako of the Npp who constantly attacked Prof,to go back to the food and drug board as its PRO.
President Mahama adhered strictly to that noble concept introduced by his boss by bringing on board all persons who could help in Ghana's economic reconstruction without looking at political colours. He invited people like Dr Paul Acquah, Kwame Pianim, Professor Addae, Professor Addai, Franklin Cudjoe, Cassley Hayford, Dr Amoako etc to be part of the brainstorming forum ( Senchi Economic Forum) and invited Otumfuo and other intellectuals to discuss the wage burden on the economy and how to manage it.
Known NPP businessmen who openly claimed were financiers of the NPP were allowed to operate their businesses without unnecessary interruptions and even said nice things about President Mahama, at Senchi, Professor Addai who led one of the committees openly described Mahama as a humble leader who opens up to everybody who gets closer.
At Aburi Girls Senior High School during the schools anniversary celebration, we all heard Rev. Prof. Martey describe President Mahama as the most humble leader he has seen and told President Mahama before all gathered that he will always remember him in his prayers, President Kufour adopted him as his political son because of the self discipline the former President displayed in office,some persons who have been appointed into this administration constantly visited the former President and most of them established businesses under Mahama.
Nana Akufo-Addo's own company ( mobitel) was established under the NDC and operated as one of the powerful companies in the country,Delta Bank and other companies owned by Npp stalwarts were established under NDC administrations, Ken Ofori-Atta's Phytto Rikker ( Gihoc Pharmaceuticals Company) was purchased under Jerry Rawlings's NDC administration. Why are we going back?
I fear for this great nation, the NDC operatives will stand justified in all courts of public opinion if they decide to unleash same harsh if not harsher treatment on perceived Npp operatives when (if) the take over power in future and I am just imagining what our noble pastors etc will say.
The spoil system being practiced by this administration nearly collapsed the America political system and led to the assassination of President James Garfield. It was Garfield's own party member who killed him. Guiteau who killed the President,carried that heinous crime because the President failed to appoint as Ambassador to France.
Pastors, party folks, civil society organisations,the intellectuals and the American society in general did not put up absurd pretences rather, they vehemently protested against the " job for the boys" and sacking of opposition elements leading to the passage of the Pendleton Act and later,the Hatch Act of 1939. This courageous step reduced the practice of the spoils system in the United States.
In Ghana,we heard the Delta Force operatives and witnessed their brutish activities all because they feel excluded,attacked the regional security head because they wanted their choice to have been appointed. The danger is forming up,the experimentation is ongoing and if not checked,we shall all gnash our teeth one day.
Professor Addai chastised President Mahama over what he wrongly described as nepotism,where is the good Professor,is he not seeing or hearing what is going on,the kind of people being appointed to sensitive positions and their links to the President.
What I know is that President Mahama hails from Bole in the Northern Region, his Chief of staff hails from Kwahu, his spokesperson from Kwahu, his communication minister,a Kwahu ,his deputy chief of staff, an Ashanti, etc., he appointed Major Gen Obed Boamah Akwa as the Chief of Army Staff someone who was an aide to Kufour and interestingly, has been appointed the Chief of Defense Staff by this administration.