Ibrahim Mahama Committed Crime—He must Be Jailed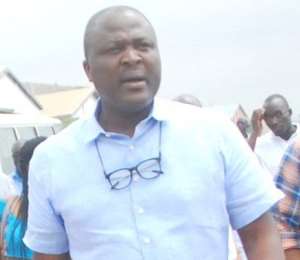 During the NDC reign, We told the whole world that we had a government presided over by thieves in high offices and surrogates that committed crime as if it was a regular chore they were so accustomed to. We brought to the knowledge of the nation that Ibrahim Mahama was the de facto President then, while his lame brother, John Mahama, was the incompetent substantive. We spoke until our tongue wore out yet all that fell on deaf ears.
Ghanaians slave in the land of strangers, labouring for pittance in Europe and America. They buy goods and vehicles to bring to their homeland Ghana, but are maltreated by the authorities, National Security, CEPS, and others that muscle them to seize their hard earned properties acquired by sheer blood, sweat and toil, much like crocodiles at the river banks of the Serengeti waiting for innocent wildebeests and zebras to come crossing.
Even when they can pay the necessary duties and levies, their vehicles are sometimes not released to them for some flimsy reasons, all in the name of arm twisting, subjugation, and plain thievery. Some become so melancholy that they die out of depression, cardiac arrest, high blood pressure and other forms of stress related ailments.
Yet in spite of all that, a thief like Ibrahim Mahama, who issued dud cheques to CEPS is merely fined GHs12.7 million and let loose. The impunity continues, even now that we have Power, to prosecute such dirty villains. This man, Ibrahim Mahama, impugned all laws and regulations, violated laid down principles of ethics, connived to collapse a whole bank that he bought with moneys borrowed from it, but because he knows this person and that, he is being given VIP treatment. Issuing one dud cheque is a crime punishable by fine and five years jail term let alone so many issued by Ibrahim.
EOCO, listen to the continuing cries of the innocent who had come through your doors because someone somewhere during the NDC era of shame directed that they be targeted. At the behest of this most duplicitous family, crime was committed without regret. In fact, Ghana suffered at the hands of the Mahama gang and its extensions far more than it did under the illegal revolutions that began shortly after independence, put together.
Some members of that family took Ghanaians for a rollercoaster ride to hell and they must be held accountable. In fact, of our own government, their relatives have shown deep scorn for respect, and humility. They have even exhibited crass bigotry, racism, fascism, extremism and much more traits of belligerence than can be found in any Ghanaian outside this family.
Ibrahim Mahama must be jailed. The authorities, especially EOCO, must rope this scoundrel in before he leaves the country with the stolen booty that Ghanaians are in such dire need of. The recent flamboyance of letting his bank, UMB, allocate $100 million USD for the one district one factory agenda was only a cosmetic display, hoping that the move would dampen the seriousness of the investigations that he saw coming. It seems though that it has! If any one individual or company were found to have perpetrated a small fraction of his crime, they would have paid a very heavy fine and gone to jail, too.
Who is Ibrahim Mahama to be let off the hook? Or was EOCO scared of the spineless serpent Nyaho Tamakloe, who hissed lamely at the government for roping in his thieving nephew? I can't forget the uncountable people who lost their cars at the hands of Lordina Mahama's gang at the port. If one of the victims had avoided customs duty and found a way to clear their vehicle, would that person not have gotten arrested and sentenced to some five or ten years in jail? But because this time round it is Ibrahim Mahama, EOCO is satisfied with merely slapping him with a fine? This is surreal!
When we said that he had a hand in the Ameri deal, he slurred us with caustic submissions. Today he claims that he only took a mere GHs25million from it. The Ameri deal anyways was highway robbery, and this liar partook in the financial loss that the nation suffered. If he can describe twenty five million Ghana Cedis as "mere", why then did he taunt CEPS with dud cheques that bounced like a squash ball so frequently it dazed the officers? But mind you, some officers took bribes to allow the humiliation of the system in such a laughable manner. They must be found and brought to book.
What does EOCO mean at all? Ibrahim Mahama must be jailed and I don't give a hoot who is behind him. After all, those protecting him are just as guilty as he is in defrauding the State, and I swear by Almighty ALLAH that I shall not rest until this thief is in jail. Ghanaians must listen to the Honourable Kennedy Agyapong. This is a man of integrity and truth, and a passionate patriot, who wants to see sanity restored to the system.
I hereby kick start operation #JailIbrahimMahamaNow
Follow my space, folks. It is going to happen Live.