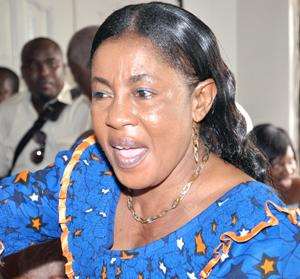 The Former National Women's Organizer for the National Democratic Congress (NDC), Anita De Sosoo, has said the posture of the Minister-designate for Gender, Children and Social Protection, Otiko Afisa Djaba, during her vetting on Monday, could prevent more women from being given leadership roles in government.
During her vetting by the Appointment Committee on Monday, Ms Djaba said she owed the former President no apology for describing him as wicked, and someone with a heart of the devil since she spoke out of conviction.
But speaking to Citi News, the former NDC women's organizer apologized on behalf of the minister designate, saying her refusal to render a personal apology was based on pride and arrogance.
"I was thinking she will be bold enough to say sorry to our former President being his relative, and also to withdraw the statement. I was also thinking she will say sorry to Charlotte Osei but she refused. If you have been nominated to lead a big Ministry like Gender, this means you are going to meet elderly women, elderly men, disabled and children. No matter what, you have to put your pride aside and render apology to Ghanaians."
"Men do study women carefully, and I am proud to say that, the men in my party helped me to get to this stage. If I were not to give them that respect, I do not think I can get to where I am. When you give men the due respect they will push you to the highest limit. Her posture is that, I want to place them where they are, and I know she will change, but one thing I want her to know is that she is going to work with people so she should change."
This is what ensued between Otiko Djaba and members of the Appointment's Committee
Suhuyini Alhassan: Over the past years , it is known to everyone that you have been very active in partisan politics. Actively campaigning for Nana Addo who is now the President of the Republic. During this period , your public pronouncements have been described by many Ghanaians as harsh. For instance you labelled the former President as having the heart of the devil. You also described the former President as violent and an embarrassment to the Northern Region. You also described the President as being extremely wicked and violent…Do you accept that your statement was unfortunate and unpalatable . Will you now apologise to the former President and to Ghana for such unsavory comments?
Otiko Djaba : The President is my brother and I spoke from my convictions. I made the statements that I made as a wake up call for him. We are building the nation.He was running for reelection and I felt that the people who should tell him as it is were not telling him as it was.They decided that because he was my brother , they did not want me to speak and when I talked about him being an embarrassment, I spoke in relation to SADA. SADA is very dear to my heart.My mother is a Northerner, the incidence of poverty is highest in the three Northern Regions and for a President who comes from the Northern Region, who promised to alleviate poverty, what happened to the Guinea fowls? It was an embarrassment to me and to the North. The Chiefs of the North actually made that statement and so I don't owe him or you any apology. We are developing and building a nation.
Haruna Iddrisu :You were free to comment on SADA but those words you used on political platforms were unsavory. Do you regret this?
Otiko Djaba: My comment on the internet was in relation to SADA…When I talked about his wickedness, the people of Ghana were asking for reduction, they were asking for dumsor to be solved, people were losing jobs and so forth.
Haruna Iddrisu: We take a strong objection to those words you used to describe former President Mahama. Will you dissociate yourself from those words? Otiko Djaba : Are you saying we cannot criticize in this country?
Haruna Iddrisu: Does your right to speak include your right to insult? Otiko Djaba : It was not an insult. It was a criticism and I am allowed as a citizen of Ghana to criticize the President and these are descriptive words. It is not an insult. Haruna Iddrisu: So you want to stand by those descriptive words that he is evil and wicked?
Otiko Djaba : I did not insult the President, I criticized him.
–
By: Marian Ansah & Felicia Osei/citifmonline.com/Ghana
Follow @EfeAnsah