Ghanaian Community in France Calls for Peaceful Elections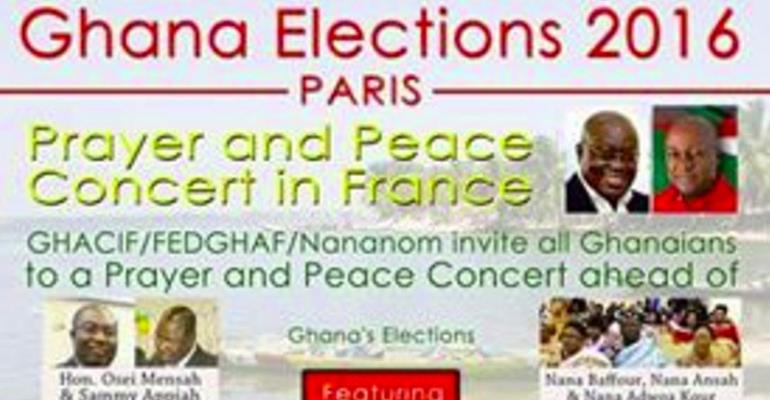 The Ghanaian Community in France Council(GHACIF), the Federation Of Ghanaian Associations in France(FEDGHAF) & the Nananom Traditional Council of France have joined hands to call for peaceful elections in Ghana, come 7th December 2016.
As a prelude, the three institutions, are proposing a Prayer and Peace Concert in the Paris Region.
The following gospel artists shall be featured :
Rev : Ohene Darko(London)
Ps. T Lennox(France) Vic. Yeboah(France), Elder Charles Asare(France), Prince Agyemang (France), Minister Fred Atterson(France), Maa U(France) and the Levites Band.
Date: Saturday 03/12/2016
Time: 18h30-23h00
Venue 71-73 rue de la Briche 93200 Saint-Denis.
THEME: Vote in Peace
Contact : 0620426999
The Media will pick motivational peace messages and participants shall receive Ghana Flags.
Entry shall be free but donations to clear cost shall be welcome.
Join us to express Diasporan peace concerns on our homeland Ghana.
Hon. Osei Mensah Michael for :
FEDGHAF/GHACIF/Nananom/
Unity Forever