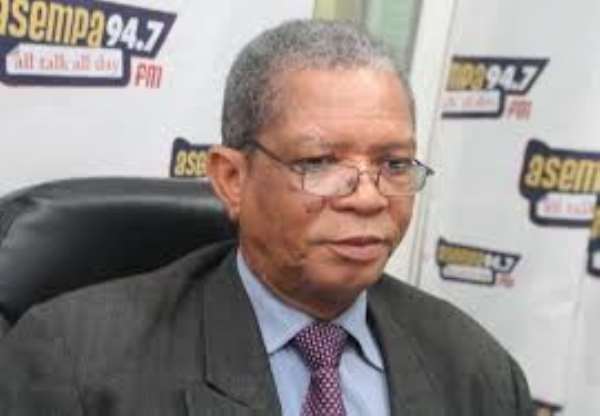 This is not an issue that will be going away anytime soon. And here, also, it ought to be emphasized in no uncertain terms that the two Norwegian investigative journalists who reportedly undertook to expose the Mahama-led National Democratic Congress (NDC) government for the patent fraud it has been known to be for quite some time now are no dupes.
They fully appreciate the stark fact that natural-resource rich Third-World countries like Ghana continue to wallow in abject poverty and economic receivership – thanks to the "dead-aid" generosity of Western donor nations – continue to do so inescapably because of our criminally corrupt leadership.
And now Mr. Eric Ametor Quarmyne (aka Umar Farooq Zahoor), the so-called National Democratic Congress' Communications Team Member, is telling us what we have always known (See "NPP Statement on AMERI Deal 'Mischievous'" Adomonline.com / Ghanaweb.com 12/15/15).
That while Ghanaians were fixated on and made to believe that the nation's most pressing problem at the moment was the rancor and mayhem raging in the main opposition New Patriotic Party, President Mahama was doing kleptocratic "due diligence" with the taxpayer's money.
Now everything is beginning to fall into place. And by the latter statement, of course, is meant the puzzle of why a publicly avowed Christian President John Dramani Mahama should prefer to spend his Christmas vacations in Dubai, UAE, an incurably Arabo-Islamic anti-Christian fiefdom, instead of Jerusalem or a globally renowned Christian resort nation or, better yet, back home in our predominantly Christian Republic of Ghana.
Well, like our erstwhile Western-European colonial overlords, the Arabs have tested our murky political waters and delightfully found our leaders to be pathologically myopic and criminally corrupt and, my profuse apologies, incurably and incredibly stupid! Still, the latest scam-artistry surrounding the reportedly inflated price of the 10 power-generating turbines which the NDC leaders hope to use to steal their way back into the Jubilee-Flagstaff House, assuming they do not intend to bloat our biometric national voters' register, this time around, with the names and vital statistics of foreign nationals, both resident in Ghana and abroad, has an inescapable pedigree in the equally criminally corrupt history of the Nkrumah-led Convention People's Party (CPP).
One only needs to critically examine the history of how then-Prime Minister Kwame Nkrumah blindsided the country's opposition leadership of the time in order to unwisely, albeit well-intendedly, saddle the country with the most expensive White Elephant at the time.
Actually, Nkrumah did not blindside the likes of Dr. Kofi Abrefa Busia, Mr. William "Paa Willie" Ofori-Atta and Dr. K. K. Kurankye-Taylor.
He simply sidelined these constructively astute and perspicuous statesmen by summarily removing them from the Parliamentary Oversight Committee, charged with scrutinizing and doing due diligence on the Volta River Scheme / Akosombo Dam Project, and bullishly collaborated with the most egregious and scandalous economic rape of our time.
Like the AMERI Group deal, properly speaking "heist," Akosombo ended up costing Ghanaians about three times its actual contemporary market value.
I have already extensively written about Akosombo (See my series "When Dancers Play Historians and Thinkers") and do not intend to rehash this most outrageous period in our country's postcolonial history. Suffice it to say, however, that there is absolutely nothing new here.
In other words, the AMERI Group Scandal is just another latter-day season in the political memory of the erstwhile Gold Coast. The problem here is one of the seemingly incurable degenerate mentality of Ghana's perennial cast of leadership.
The fact of the matter is that we need a revolutionary leadership; a radical change of our leadership, I mean. And here, of course, I am not talking about the primitive ethnic-cleansing sort of leadership spearheaded by Trokosi Nationalists like Chairman Jerry John Rawlings and the infamous Tsikata Cousins.
Like the Akosombo Heist / Scam, choose your pick, dear reader, we are told by the two investigative reporters for the Norwegian newspaper called VG that a project that ought to have cost a cool $220 million has been criminally inflated by some $290 million and will now cost us some $510 million. In other words, this was the boondoggle for which Dr. Kwabena Donkor's so-called Power Ministry was established.
And now, the ever-scheming opportunistic Mr. Ametor Quarmyne is telling us that rather than promptly call the criminally incompetent and kleptocratic Mahama-led National Democratic Congress government to account, the leadership of the main opposition New Patriotic Party (NPP) ought to concentrate on putting its house, "which is in turmoil," together.
And also that the National Democratic Congress' Abongo Boys came to rob the country and rob it royally. And that there is absolutely nothing that anybody can do about the same.