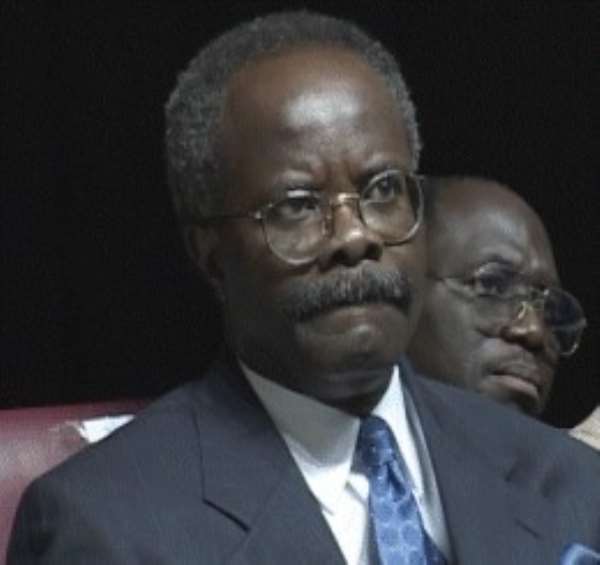 Accra, Oct. 28, GNA - Dr Kwesi Nduom, Minister of Energy and Mr Freddy Blay First Deputy Speaker of Parliament on Thursday threw their weight behind the Convention People's Party, Presidential Candidate, Mr George Aggudey.
Dr Nduom declared: "After December 7 General Election it would be clear to all which political party is leading the way. This is a new CPP and a new beginning for unity of all Nkrumaists. A rejuvenated CPP would be visible for all Ghanaians to recognise and appreciate its dynamism, he said at the launch of the CPP Manifesto: "CPP Policy Direction - Working to Bring The Economy Back Home," in Accra.
The Minister of Energy, who is the CPP Parliamentary Candidate for Komenda Edina Eguafo Abirem (KEEA) Constituency in the Central Region mounted the podium singing, "Work and Happiness," a popular CPP song. The enthusiastic Party members joined him and sang with nostalgic fervour, bringing back memories of the 1960s when the leftist Party was the winning political horse.
He said the Policy Document capturing the direction and philosophy of the Party would ensure that the electorate understood the aims of the Party.
Dr Edmund Delle, National Chairman and Leader of the Party, said CPP was poised to once again lead the liberation of the country economically. "CPP led Ghana to Political Independence, now its time for CPP to again lead the nation to Economic Independence." He said the country was now facing economic difficulties and needed another "Osagyefo" (Redeemer) to deliver Ghanaians from the shackles of deprivation, high cost of living, deteriorating economy and general indiscipline.
Dr Delle asked the electorate to vote massively for the CPP Presidential Candidate, Mr Aggudey and all the parliamentary candidates to form the next government.
Mr Aggudey, who launched the Party Manifesto, also introduced his running mate Mr Bright Kwame Ameyaw to the Media and Party members. The 24-page document addresses Ghana's International Relations; Economic Planning and Finance; The Interior; Local Government; National Infrastructure; Housing; Electricity, Energy and Power; Agriculture and Rural Development and Defence and Education.
The rest were Health; Industry; Trade and Employment; Youth, Sports and Culture; Science and Technology; Environment and Natural Resources; Communication and Information; Women and Children's Affairs; Justice; Transport and Tourism.