Ghana: The Wealthy Beggar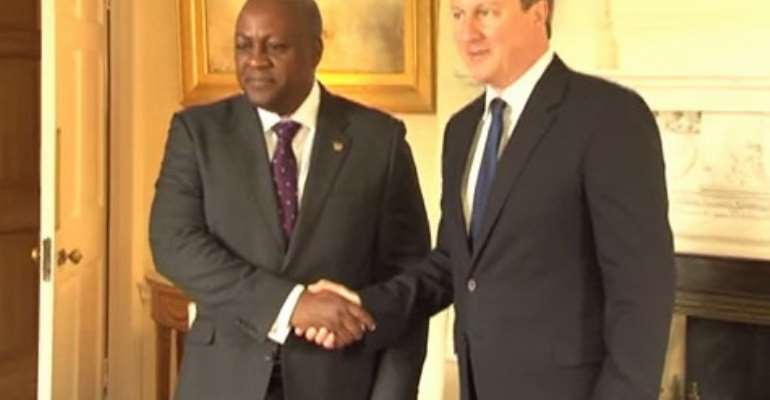 "Ghana is like King David who had all the single women in Israel at his disposal but went in for a married woman"-Nana Kwabena Boateng I
In the Ghanaian National anthem, the first stanza says "God bless our homeland Ghana and make our nation great and strong" this have brought the Country this far with the addition of Grace from God. Other than we would've been just like Greece.
What again do we as a nation need from the Supreme Odomankoma Nana Nyame, after all the natural resources he has bestowed on us from Wa to Axim?
What moral or Constitutional right do we have to go begging again eeiii! I will highlight a few resources we have in our Country which will don't utilize but still go begging.
In the Upper West Region, Upper East Region and Northern Region, The Supreme Odomankoma Nana Nyame, specially made the three Regions in such a way that, nothing like hunger, joblessness or insecurity should be felt. He gifted them with almost the same Natural Resources.
Shea Fruits,Tubers,Maize,Millet, Bambara beans, Brown rice, Tomatoes,Cattle,Wild Fruits,Rivers,Cashew,Fertile land and Physically Strong Human Resource.
What The three Regions in our Northern belt needed was a vibrant and innovative leader who would've utilized all these resources into some profitable. But what do we see,Osagyefo Kwame Nkrumah built many industries to employ the teeming youth from the North and these companies would've never imported anything China because we have all the raw materials to run the industries. But our subsequent leaders have deserted all these industries, making the rich resources there go waste for no reason.
Now, let's stroll the Forest Belt which is made up of Ashanti,Brong Ahafo and Eastern Regions respectively weren't left out of Odomankoma's showers of blessings! These Forest Regions have Gold,Manganese,Bauxite,Timber,Palm fruits,Rivers,Fruits,Rocks,Fertile Lands, Wild Life, Water Falls,Kente,Beads,Forest Reserves and Business minded Human Resource.
The wealth in these rich Regions would've solved our problems as a country without going to IMF or World Bank for throat cutting loans which disallow government from employing young graduate nurses and slashing down salaries of workers just to please the Loan masters. We have the Ghana Tourism Board which would've given the country real cash if our tourist sites in these places are well managed.
Let me take you on a boat to the Coastal part of Ghana. This area is made up of the Central,Western,Greater Accra and Volta Regions respectively. The Ever Merciful Odomankoma Nana Nyame stays very close to them, so gifted them with the Sea, Sea foods,Coconut,Forests,Wild Life,Lakes,Rivers,Gold,Bauxite,Tubers,Timber and other profitable gifts.
These Regions define Ghana, whether we like it or not. Because of weak leadership these the Western and Central Regions are said to be part of the poorest Regions in the Country! Industries and Factories built by Osagyefo have all being left to rot or sold off to foreign nationals who had no right to have it and we go round with our bowls begging.
What wrong have the people Ghana committed that our Leaders take us through this mess? International Mining companies come down to take over our lands, destroy it without compensation and our leaders look unconcerned. Most roads in the country Ghana are not tarred, in this 21st Century.
Our railway system is now a white elephant whiles we waste precious time in disgusting Traffics. Ghana was named as part of the dirtiest Countries in the world.We can't utilize the Bright Sun Odomankoma provides for us in the Northern belt into energy which would be solve our energy crisis.
We still have the guts to go begging riding in V8s and unnecessary convoys! Whiles Muhamadu Buhari is slashing down salaries of law makers and Ministers and also scrapping off the office of the office of the First Lady, we are hear wasting money and still want Nigeria to give us Gas obn credit!
The same things Osagyefo Dr.Kwame Nkrumah saw that motivated him to say "The Black Man is Capable of Managing His Own Affairs" is what we've also come to meet but wasting it gradually.
Let's end the tour here,.Please the Resources I mentioned above are just a tip of the ice berg. Let's wake up from our slumber and tell our National Leaders that, we deserve better. Potters down here in the South shouldn't have been here as potters if proper measures were laid down in the Northern belt.
Rice Master is milking Ghanaians dry because we don't see anything good in our Brown Rice. How on earth can Chinese Nationals enter into our country, start mining illegally, leave open pits uncovered and young ones die every day by falling into these dangerous pits.
Join me and let's hold our Leaders accountable, please don't lose hope because we are begging like no man's business, we can make change happen.
YOU CAN CONTACT THE WRITER ON [email protected]/0249542342