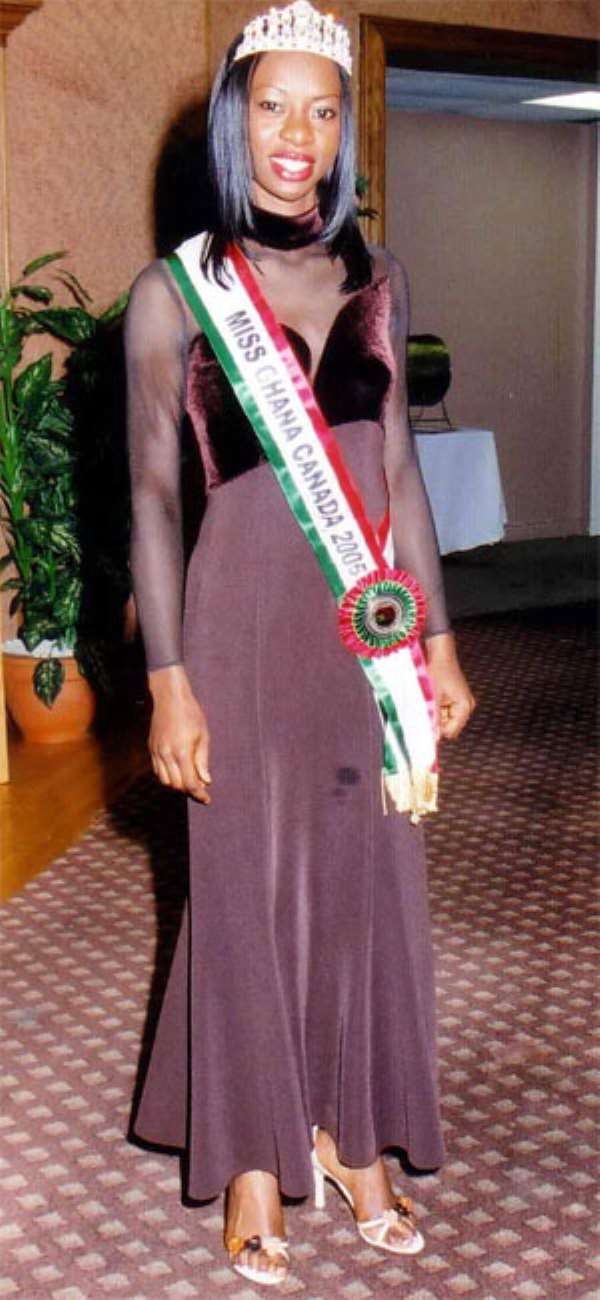 The crowning of Miss Ghana-Canada 2004, 5th in the row, and cultural show took off at the Travelodge Hotel on Keele and Highway 401 on Saturday, 14th of August 2004. In precedence to the crowning was the pre-judging competition held at the Club Paradise on 220 Atwell Drive on the 13th August 2004.
A look at the contestants, Abigail Opoku, representing Upper East; Jamila Mensah Kukubor, Western Region; Lesley Frimpong-Manso, Northern Region; Evelyn Amponsah, Volta Region; Elizabeth Asubonteng, Central Region; Diana Dickson, Eastern; Constance Aniwaah, Greater Accra.
The Travelodge Hotel Hall was filled with friends and fans of Vying contestants, in an aura of ecstasy in stud-live entertainment.
As the prologue-music bashed, the 7 contestants appeared on the prism-lit stage in sleek traditional "Kente" dresses displaying calculated dancing feet, and greeted with 'rompy' cheers by the audience, whilst the judges peeked on with vital statistical prudence.
The second stage appearance was one of 'mouth-watering' captivation, with romantic music in the background, the contestants appeared on the stage in their swim-suits protected only by a thin transparent linen and natural fiber. The audience roared in tantalizing sentiments and as if that wasn't a show enough, each contestant in an 'Olympic type of 'Synchro' begun withdrawing the protection displaying oil-streamlined physiques.
When time was subsequently apt for the exhibition of individual talents and cultural presentations, the natural ability that "well' on the inside of each contestant was unequivocally laid bare.
Talents were highlighted, ranging from profound philosophical oration, maxims, Divine truths current issues confronting society, dance depicting shackles of oppression to dance of victory.
In an interlude, George Fynn, the 'Miss Ghana-Canada Pageant' protagonist introduced to the audience the Board of Directors of the event, Mr. Kabu Asante, the CEO of 1st Capital Financial, Mr. Sam Aboagye Danso, and Dr. La-Kumi and each was presented with a plaque of pledge of responsibility. The Board will help steer the affairs of the Pageant.
The final segment of the merriment, question time had the contestants donned in colourful glittering onyx in accordance with their aspirations and braced for the verdict.
The moderator, George Fynn posed questions and each contestant not only responded, but each response was potentially unique, loaded with wisdom and philosophy.
Eventually, a 'definite' contestant must win 'the one crown'. In the course of event, Diana Dickson was declared Miss Ghana-Canada 2004-5", she is a Humber College student who has a chip on the shoulder as a defense lawyer.
The audience watched with emotion whilst the reigning Miss Ghana-Canada put the crown on to the head of the newly crowned Miss Ghana-Canada.
The event was made possible under the auspice of Ist Capital Financial, D&S Personnel Services and other community business.