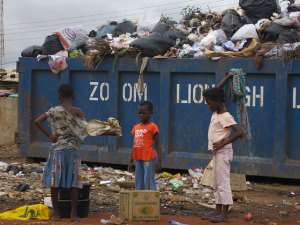 The Minister for Local Government and Rural Development (MLGRD), Alhaji Collins Dauda has announced that plans are far advanced to construct two additional modern liquid waste treatment plants at Lavender Hill near Korle Bu in Accra.
The Minister said this last week when he paid a working visit to the Lavender Hill and Mudor liquid waste treatment plants both at James Town, Accra. He also visited the Kpone Solid Waste Treatment Centre near Tema.
The construction of the two liquid waste plants in the vicinity would lead to total elimination of the old method where the sewage tankers dislodge their contents into the sea.
Alhaji Collins Dauda who was led on the tour by the Mayor of Accra, Oko Vanderpuiye said the two projects which will be completed by the end of this year were being funded by the Danish government at the cost of 2.7 million Euros.
The Minister explained that the visit to the three waste treatment points (Mudor, Lavender Hill and Kpone) was to put measures in place ahead of the rains to ensure that the health of the people is protected against any cholera outbreak.
The Mudor liquid Waste treatment plant
He added that the ministry has set itself to achieving a zero cholera incidence in 2015 and the coming years.
The Mayor of Accra, Oko Vanderpuye on his part, explained that the liquid waste treatment plant which is located at Mudor is fitted with three tubes which will be connected to three waste tankers at a time. The tankers will then dislodge their contents through the tubes into a main tank.
He indicated that the tank has the capacity to receive the contents of about 200 liquid waste tankers in a day.
The Mayor continued that the stored liquid waste will then be channeled through digesters which will convert it into particles that are good for agricultural purposes.
By Solomon Ofori