Lagos coroner to give verdict in church collapse next month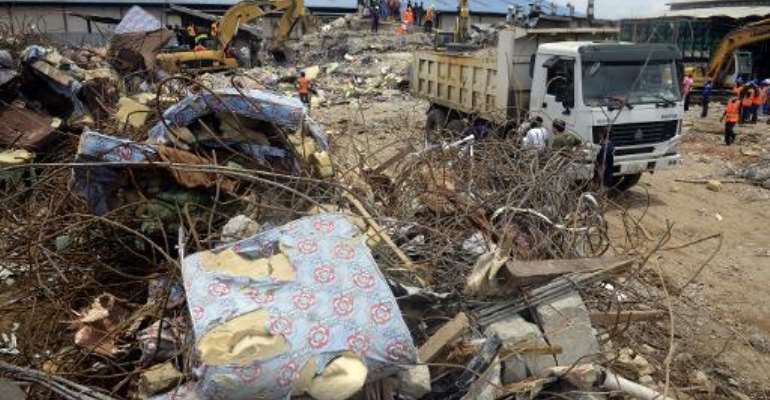 Lagos (AFP) - A verdict on the causes of a deadly church building collapse that killed 116 people in Nigeria's financial hub Lagos will be issued next month, the coroner probing the tragedy said on Thursday.
Oyetade Komolafe had previously said he would give his ruling in mid-March but now says he will give his judgement before the scheduled change in local and national government on May 29 following elections in April.
"We have had enough (witnesses). This inquest has come to an end. The court will not allow for additional evidence," he said, adding that final submissions from lawyers would be heard next week.
"If possible, the verdict will be in May. I don't want this inquest to extend to another regime."
The inquest into the September 12 collapse of a guesthouse for foreign followers of popular Nigerian preacher and televangelist TB Joshua began in October last year.
Eighty-one of the dead were South African visitors to Joshua's Synagogue Church of All Nations (SCOAN).
Joshua, a televangelist and self-styled faith healer known to his followers as "The Prophet", has attributed the collapse to sabotage.
The pastor, who counts presidents and powerful politicians from across Africa among his flock, has claimed the collapse was caused by a mysterious plane seen "hovering" over the building at the time.
But Lagos officials and expert witnesses have ruled out the theory of aerial sabotage or an explosion.
The hearing has been told instead that the guesthouse did not have planning permission and that a number of other buildings at the church were structurally unsound.
Earlier on Thursday, engineer Oreoluwa Fadayomi of the Building Collapse Prevention Guild, a professional body, attributed the cause of the collapse to structural failure.
"The building caved in because of structural defects. There were no rigid zones. The columns, beams and other elements were not strong," he told the hearing.
Joshua has failed to turn up to give evidence on four separate occasions at the inquest. His lawyers challenged the coroner's power to summon him.