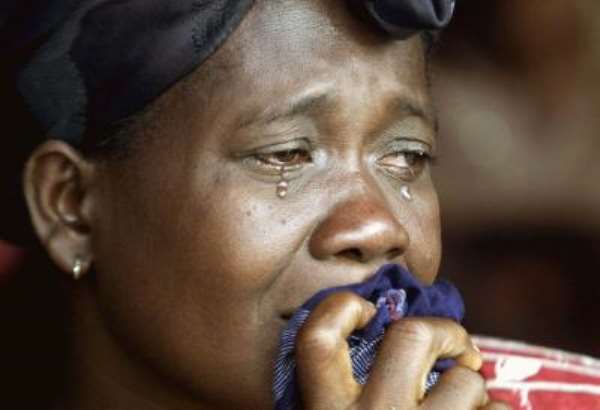 ... As he fails to clinch NPP parliamentary ticket The Deputy Minister for Brong Ahafo Region, Mr. Yaw Adjei Duffuor on Tuesday abandoned his bid to become the New Patriotic Party (NPP) parliamentary candidate for the new constituency of Kintampo South when he withdrew from the contest at the eleventh hour.
His action sent disappointment to his supporters, including members of his household who were in jubilant mood, anticipating victory for him.
Mr. Duffuor threw in the towel in the process of the congress after the declaration of the results of the election of constituency executives and announced that he was stepping down for his opponent, Mr. Kwasi Adu-Gyan, an Information Communications Technology Expert.
Immediately after the news broke out, The Chronicle learnt, some members of the deputy minister's family and supporters, mainly women, broke down in tears, bringing the music and dancing to an abrupt end.
Some of the supporters who converged at the deputy minister's residence at Jema, declared their intention to vote for NDC, since their favorite had lost the bid.
At the congress itself, 99 delegates cast their votes to elect seven executives comprising Chairman, 1st vice chairman, 2nd vice chairman, secretary, treasurer, organizer and women's organizer, all of whom were said to be from the camp of Mr. Adu-Gyan.
After the declaration of the congress' results, the National Organizer of the party, Mr. Lord Commey told the delegates that they were going to continue with the primaries to elect a parliamentary candidate for the constituency.
But before this, the aspirants were expected to sign an undertaking to abide by the outcome of the election in accordance with the party's constitution.
He then read the undertaking to the gathering and invited Mr. Duffuor to append his signature but the candidate asked for five minutes to consult his loyalists among the delegates.
He came back to the auditorium to announce his withdrawal from the contest in favour of his opponent, whom he described as "my younger brother."
The decision attracted a prolonged applause from the audience and Mr. Duffuor pledged his support for Mr. Adu-Gyan.
In his victory speech, the candidate called on all the people of the constituency to come together to fight for the common goal.
He said the victory of the NPP in the constituency was more important than the parochial interest of any individual party member.
Mr. Adu-Gyan assured the delegates that he would closely work with Mr. Duffuor to win the seat.
The National Organizer, Mr. Commey, commended Mr. Duffuor for his bold initiative, which demonstrated his sense of maturity.
At the congress were Mr. Kwadwo Yeboah Fordjour, party Regional Chairman, Mr. A.K. Kusi, Regional Secretary, his Assistant, Mr. Marfo and Mr. Kofi Darko, Regional Organizer.