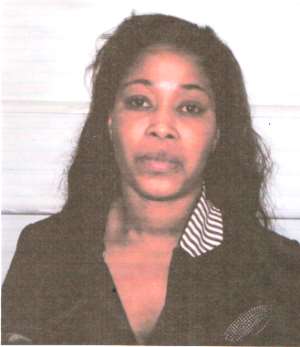 One question has been on my mind ever since the cocaine smuggling case of Nayele Ametefe, alias Ruby Adu-Gyamfi,was first reported but I decided to wait till now because I didn't want to ask a question only to realise later that I had rushed to do so. And perhaps I can safely blame this uncertainty on our local Press who too often give out half-baked truths to confuse readers.
Now that all the dust has settled, all allegations confirmed, and Ruby sentenced according to her own plea I believe it's appropriate for me to ask the question which has still not been answered.
Depending on from which source one first received the news, especially in the early the days of the story there was some confusion about the other nationality of Nayelewhich was sometimes reported to be Austrian and sometimes Australian. In the same vein, even as recently as after her sentencing 'VVIP' is constantly being interchanged with 'VIP' as the lounge she used before boarding the plane.
But while adding one more 'V' to 'VIP' or one less from 'VVIP' may not be all that serious especially in our societyin which not so much premium is placed on details the same cannot be said about interchanging Austria – a small country in the heart of Europe – with Australia – a whole continent on its own, far away 'down-under' in the Southern and Eastern hemispheres.
So the reason I've waited till now to ask the question I have on my mind is that I wasn't so sure whetherNayele held dual citizenship of Ghana and AUSTRALIA or Austria.
Was She Travelling on a Diplomatic Passport?
It would be recalled that one of the very first statements issued by our Foreign Ministry on the story was that Nayele, at the time of her arrest, was not travelling on a Ghanaian Diplomatic Passport. No mention was made in this statement as to whether or not she also possessed the passport of any other nation. Obviously it was none of their business to do so whether or not they knew anything about it.
But the assumption obviously was that she was a Ghanaian. However, following the revelation that the lady also held Austrian citizenship I would have concluded that perhaps she was not travelling on a Ghanaian passport after all until we read that the Ghana High Commission in England had been on hand to offer her consular assistance.
How Are Foreign Travellers Identified?
For purposes of this article it may be necessary to remind readers that international travellers are identified only by the passports on which they are travelling and not by their skin colour, name or the language they speak. In other words, if at the time of her arrest Nayele was holdingan Austrian passport she would have been treated as an Austriancitizen even if she had claimed to be the daughter of OsagyefoDr. Kwame Nkrumah. One of the questions that need to be answered, therefore, is: when did Naayele's Ghanaian/Austrian dual nationality emerge in the story?
Does She Indeed Have Austrian Nationality?
As it's now established beyond any doubts that not only is Nayele a Ghanaian by birth but also travelled – not across the border to Togo, Burkina Faso or Cote d'Ivoire but to Europe – on a Ghanaian passport I would have concluded that she could not also be holding Austrian citizenship in addition but for the fact that she herself requested during hearing that after serving her sentence she should rather be repatriated to Austria. Of course we all know that not only are both Austria and the United Kingdom European countries, they are also both members of the European Community, with the same colour of passport which enables citizens of either country travel to the other without visa. Hence I guess she'll have no problem getting her request granted.
The problem I have with all this though is that I know that unless Austria has changed its nationality lawsit is one of the European countries which do not accept dual nationality. I don't know how it works when an Austrian citizen by birth decides to acquire the nationality of another country but I do know that for a citizen of another country – let's say Ghana – to acquire Austrian citizenship it is a prerequisite for that person to renounce his/her original citizenship.
Renunciation of Ghanaian Citizenship
Renunciation of Ghanaian citizenship is the process through which an individual Ghanaian, either directly at the Ministry of Interior or indirectly through a Ghana Mission in his/her area of residence voluntarily requests for a revocation of his/her Ghanaian citizenship. As part of the procedure the applicant returns his/her Ghanaian passport which is accordingly cancelled. A renunciation application becomes valid only after it has been accepted by the government of Ghana and a certificate duly signed by no less an official than the Minister for the Interior issued to the applicant.
In the case of Austria, because they do not accept dual citizenship, they may grant citizenship to a foreign national only upon receipt of the Renunciation Certificate of the applicant. By inference, therefore, if indeed Nayeleholds Austrian citizenship it means she cannot possibly be still lawfully holding on to her Ghanaian citizenship to enable her travel on a Ghanaian passport.
So now the question is: from where did NayeleAmetefe, alias Ruby Adu-Gyamfi, acquire the Ghanaian passport on which she was travelling at the time of her arrest when as argued above she could have acquired Austrian citizenship only afterfirst renouncing her Ghanaian citizenship?
I rest my case.
Kwame Twumasi-Fofie
Sunyani