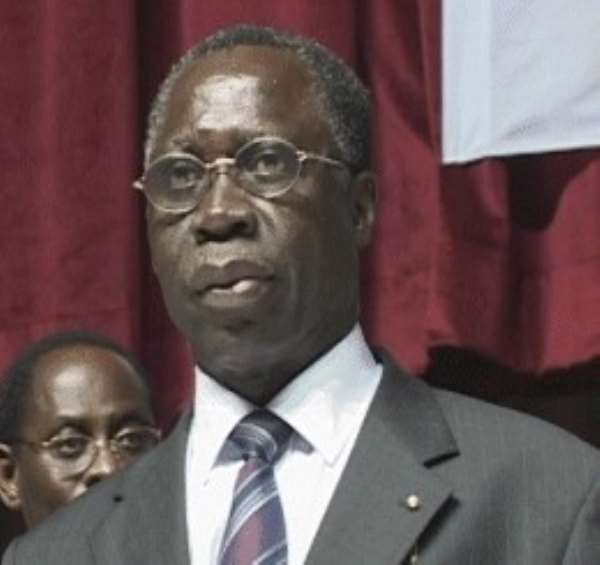 Accra, July 7, GNA - Non-Tax Revenue Agencies have paid about 154 billion cedis to Government this year as dividend for their operations sparking an era of improved performance of State Owned Enterprises.
Briefing Journalists after receiving a cheque for six billion cedis being dividend for 2003 from the State Insurance Company (SIC) in Accra, Mr Yaw Osafo-Maafo, Minister of Finance, attributed the change to the ever-improving macroeconomic situation and good management practices adopted by the Management and Boards of the enterprises.
The current situation is a significant improvement over the five billion cedis registered some five years ago indicating that the period where State enterprises made losses because they belonged to the State was past and must never be revisited.
Mr Osafo-Maafo said it was a demonstration that State enterprises were becoming more aware of their responsibilities to the Treasury. The six billion cedis dividend by SIC is the highest in recent years after paying 1.2 billion cedis in 2001 and 4.0 billion cedis in 2002. Its premium income has increased steadily over the last three years reaching a high of 243 billion last year as compared to the 110 billion cedis in 2000.
On the issue of quick payment of claims, Mr Osafo-Maafo asked SIC to work assiduously to complete the full decentralization of payment of claims to persons as and when they made them.
"It is not fair if we make someone who has lost a limb in an accident to come all the way to Accra to collect his claim. Additionally, the Police must find a way of making sure that Police reports required to facilitate the payment process is done with dispatch."
Mr Osafo Maafo urged other insurance companies to also work at effecting a decentralized payment system for claimants. On the divestiture of the SIC, the Minister said the Government was keen on working out an acceptable prospectus for the divestiture of SIC through the Ghana Stock Exchange.
"This reflects that SIC is now matured to go to the Ghana Stock Exchange. This would be done very soon in view of the good and profitable state of the company."
Mr Isaac Mensah Ofori, Chairman of the SIC Board, said the Company had seen a turn around and was sure to respond to the favourable macroeconomic environment engineered by the Government. He said SIC had since 2001 been able to reduce its debt structure from 67 billion cedis to 10 billion cedis at present.