Judgement Debt Commission ends public sitting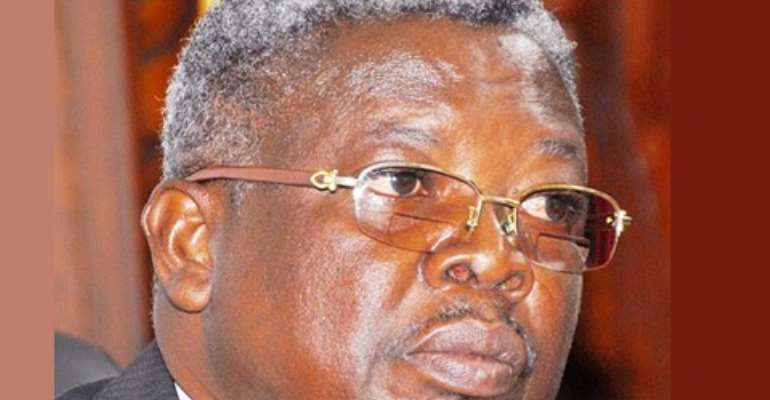 After nearly two years of proceedings, the Com­mission of Enquiry tasked by President Mahama to investi­gate the payment of judgement debts brought its public sittings to an end Thursday.
Sole Commissioner Justice Yaw Apau of the Court of Appeal announced that they were retiring to the chambers to prepare their final report, and said they hoped to submit their report to the Presi­dent by the end of December. Architects of Judgement Debt
Curiously, the commission ended its proceedings without the appearance of the 'architects' of moden day judgment debt pay­ments.
Former ministers under whose tenure most of the 'dubious' and 'frivolous' judgment debts were paid were not called to give testi­monies about how the 'monster' called judgement debt suddenly gained root in Ghana's political lexicon.
The two ministers on the lips of the public as having supervised some of the alleged payments that somewhat triggered the setting up of the commission by President John Mahama were former Attor­ney General and Minister of Jus­tice, Betty Mould-Iddrisu and her deputy, Ebo Barton-Odro, now Deputy Speaker of Parliament.
Mrs Mould-Iddrisu and Mr Barton-Odro had come under pub­lic criticisms for allegedly approv­ing dodgy payments in the name of judgement debt to individuals and organisations, including Alfred Agbesi Woyome, who had admitted that he had no contract with the state.
With the state having turned round to prosecute Woyome, the Sole Commissioner was expected to call at least Betty Mould- Iddrisu, who is now gunning for NDC vice chairman position, to throw light on the dodgy pay­ments but that never happened. High Profile Cases 
Some of the high profile cases that were handled by the commis­sion included the Ghana National Petroleum Corporation (GNPC) Drill Ship that was sold during the NPP tenure in 2001.
Ghana Government in 2001 sold the GNPC Drill Ship - Discov­erer 511 - at $24 million to service several debts owed by the stated- owned oil exploration company, following a series of failed agree­ments entered into in the 1990s.
Out of the amount received from the sale of the state asset, $19.5 million was said to have been paid to Societe Generale as judgment debt secured against GNPC in a London court in 1999; and the issue turned into heated political debate when the commis­sion brought in witnesses. Volta Basin Compensation
There was also the Volta Basin Compensation payment by the government following the con­struction of the Akosombo Hydro Electric Dam in the 1960s, which drew a record number of witness­es and claimants.
Cabinet, in July 2008, approved a consolidated amount of compensation totalling GH₵138 million for various stools/families in Pai, Apaaso, Makango, Ahman- di and Kete Krachi Traditional Areas. An estimated 57 groups were said to have benefited from the amount.
Records at the commission revealed that GH₵71 million had been paid so far to the various claimants and the disbursement of the remaining GH₵67 million had been put on hold to enable the government deal with discrepan­cies in the payments. Konadu's $4m
Former First Lady Nana Konadu Agyeman Rawlings also stormed the commission to con­firm receipt of $4.150,127.50 - an amount she said she took in cedis and not in dollars as judgment debt on behalf of her company which formed part of Calf Cocoa International. Mandate 
The commission derived its powers from C.I. 79' to investigate the frivolous and dubious payments of huge monies to undeserving individuals and companies after public uproar over the payments in what has now come to be termed Judgement Debts (JDs). Notable among them were  payments made to CP (€94 million) and the never-ending case of  GH₵51.2 million parted to the self- styled National Democratic Con­gress (NDC) financier, Alfred Agbesi Woyome, both of which many believe were dubious and frivolous.  
The commission, set up in September 2012, was supposed to use a year to investigate the payment of judgement debts from 1992 to 2012 but ended up spending about two years to conclude its work.    
It commenced preparatory work on October 8,2012 before starting full public sittings November 28,2012 and had a period of 12 months (around November 2013) to submit its report.