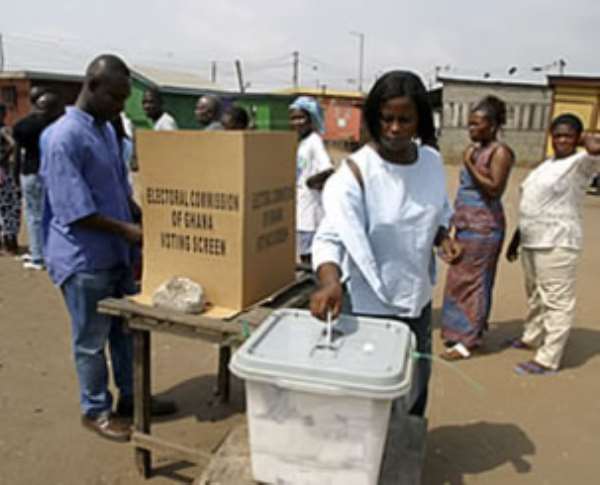 Justice Emile Francis Short addressing the media
The Institute of Economic Affairs Ghana (IEA) has proposed a thorough revision of some key political appointments in the country.
According to IEA, political appointments in Ghana continue to be based on party loyalty or patronage and not on qualifications and merits.
This, the Institute pointed out, remains a major stumbling block to the achievement of major development goals in the country as it claimed persons who are better capable of executing certain jobs are mostly sidelined.
The Acting Chairman of the Institute and Winner-Takes-All (WTA) Advisory Committee, Justice Emile Francis Short, who proposed the reforms at a press conference on Tuesday in Accra to engage journalists on the ongoing IEA-WTA nationwide consultation on the menace of the 'Winner-Takes-All' system, indicated that the country continues to exist under a political landscape where appointments are invariably made to profit party supporters and loyalists to the total exclusion of perceived or real political opponents.
Speaking under the theme, 'Rethinking Ghana's Winner-Takes-All System of Governance', he noted that 'under Winner-Takes-All politics, all appointments are invariably made to benefit party supporters and loyalists to the exclusion of real or perceived political opponents in a matter that sometimes undermines meritocracy and weakens institutions,' adding that Ghana had been under this system of governance since the emergence of the Fourth Republic.
Proposals
To this end, he has on behalf of IEA and WTA, proposed that among other things, appointments of heads of the key constitutional bodies and governance institutions should be made by the President of the Republic of Ghana and should be subject to the approval of two-thirds majority of Parliament.
He said, 'These constitutional bodies and governance institutions are: Electoral Commission, Commission on Human Rights and Administrative Justice, Chief Justice, Supreme Court Judges, Governor of Bank of Ghana, National Commission for Civic Education, Economic and Organised Crime Office and Auditor-General.'
He proposed that the leadership of Public or Civil Service – Chief Directors – should be tenured positions and such persons, he said, should not be removed from office due to changes in government.
The appointment process of Chief Executive Officers (CEOs) of public corporations and institutions as well as analogous positions, he recommended, should be made more transparent.
'The nomination of candidate should come from the State Enterprises Commission and Public Services Commission. The names of nominated candidates should be presented to the president for appointment,' the IEA-WTA boss charged.
Ministerial Appointments
Touching on the issue of ministerial appointments, he cautioned that ministers should not be directly appointed from Parliament and that in a case where they are directly appointed from parliament, they should be compelled to resign from their parliamentary positions.
He claimed that current ministers of state who are serving in dual capacities as ministers of state and Members of Parliament (MPs) remain reluctant in criticising the inactions of the President and severe economic issues affecting Ghana, for fear of losing their ministerial positions.
Council Of State
With regard to appointment of Members of Council of State, he recommended that the President should be limited to appointing three members only, saying that 'the remaining eight be nominated by Civil Society Organisations, including religious groups, professional bodies and business groups.'
Funding Of Political Parties
Justice Francis Short further proposed that political parties should be funded by the state, indicating that 'public funding of political parties will create a level playing field for political parties and keep the parties active in the inter-election period.'
Earlier, the Executive Director of IEA, Jean Mensah, in her welcome address, said the WTA was responsible for the polarisation of the political system.
(Email: [email protected] )
 BY Melvin Tarlue