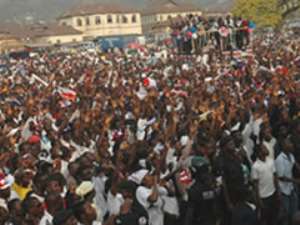 There's a joke that when God had almost finished with creation some of Ghana's neighbouring countries complained to Him about what they perceived to be His unfair distribution of resources in favour of Ghana. What God simply told them is: "you just wait and see what type of leaders I'm going to dump in that country". What this means, therefore, is that God indeed cursed Ghana by dumping on us the type of political leaders we have. As for why He did that, well I don't know.
To a very large extent, you can determine how responsible or otherwise people are by what they say or do. In other words you would expect responsible people, and especially those in leadership positions, to demonstrate not only maturity but also sincerity in all that they do so as to inspire confidence in their followers. Unfortunately, for us in Ghana to hear a responsible statement from our political leaders is usually the exception rather than the rule. In this article I intend to cite only a few examples.
Are NPP Traders Responsible for Our Woes?
On Ghanaweb of Tuesday, 19th August, the Greater Accra Regional Minister, Nii Laryea Afotey Agbo is reported as claiming that NPP traders were responsible for the current economic crisis the country is facing. Really? According to him, traders in the country have been "arbitrarily increasing the prices of their goods to make the Mahama government unpopular" because they are members of the NPP. I may not have found anything wrong with this statement if it had come from some unidentifiable 'Serial Caller' but certainly not from a Minister who very well knows that there can be no truth in that statement. Can anyone imagine going to Makola or Kumasi Central Market to see traders segregated according to party affiliation, or NDC and NPP traders displaying the same items side by side but selling at different prices? Since reading this report I've also gone around to look for the NDC filling stations where I might buy fuel cheaper than it is sold at the NPP stations. Unfortunately, it appears that all the stations I checked are NPP owned because they all sell the same products at the same high prices.
Did NDC Thugs Attack The NPP Press Conference?
As reported on Ghanaweb of 20th August, Mr. Paul Afoko, National Chairman of the NPP, claims that the people who disrupted the recent Press Conference organised by the party's leadership wielding dangerous weapons were hirelings of the governing NDC. I wonder if there's any JSS pupil in Ghana who didn't know that this statement could not be true. But never mind, after all that appears to balance the equation with what Mr. Asiedu Nketiah, General Secretary of the NDC, did last year when he claimed that the thugs dressed in NDC colours who trooped to the Supreme Court premises at the opening of the Election petition to chase NPP supporters away were members of the NPP.
Listening to a panel discussion on a Sunyani-based FM station a day after the NPP Press Conference mentioned above, I could hardly believe my ears when I heard the Brong-Ahafo Regional Youth Organiser of the party claiming that what happened was in fact a 'rehearsal' for what is going to happen at the 2016 General Elections. Now, not only is Mr. Obiri Boahen a well-known and respected lawyer in Sunyani, he was also one time a Minister of State in the President Kufuor-led NPP government. I happen to have met him before and am sure that in his private and professional life he would never make such a public statement which tends to imply a tacit support of political violence. So who told our politicians that once they are on the political platform their integrity, self-respect and credibility don't matter anymore?
Or It's Because All of us Are No Longer Millionaires
Some of us recall the 'wahala' one had to go through not so long ago to carry the 'proceeds' of a few thousand US dollars (or its equivalent in foreign currency) exchanged at the Forex Bureau. Those were the days almost every Ghanaian qualified at one time or the other as a millionaire when in reality they may be worth only a few hundreds. The government of the day, in its wisdom decided to knock off four useless zeroes so that not only would we no longer need a sackful of money to buy a pair of shoes but also to make simple trade transactions appear more natural. Now, some seven years down the line, propagandists of the current government are telling us that the economic woes facing Ghana are a result of the redenomination exercise. Meanwhile, we do recall that not so long ago we were told the economy was getting better as evidenced by all the economic indicators. So from where did the redenomination exercise of seven years ago come to spoil all those positive economic indicators? And what baffles me most about this argument is why the government wouldn't simply bring the zeroes back on the Cedi or perhaps even add a few more, if that's what they believe will revive the ailing economy? After all, how many times haven't we seen one government changing policies of a preceding government?
Is Akuffo Addo The Only Two-Time Failure?
Has it occurred to readers that apart from the 'Kyeremateng Camp' using Nana Akuffo-Addo's advanced age as one reason why he should not be selected to lead the NPP into the 2016 General Elections their only other ammunition is that the former has failed in his two earlier attempts to win power? Wow! Can you imagine that coming from the camp of a candidate who has lost to this same Nana Addo in his two previous attempts for the same position and intends to go for a third time? The guy who has lost twice against the same contestant – one of them with a very huge margin – is taunting the other as a failure who doesn't deserve to be given a third chance. Typical of Ghanaian politicians, isn't it?
The Highest Point of Political Hypocrisy?
No doubt one of the most significant political happenings of the 4th Republic to date is the Election Petition filed by the NPP for a review of the results of the 2012 general elections. To many Ghanaians its significance lay in the fact of it being the foremost of its kind in our history. But for international observers the world over it was the fact that an African country would opt to settle such a potentially explosive situation in court rather than on the streets that attracted all the praises.
Again, with a judicial system where it is not uncommon for cases involving even private individuals to drag on for several years the fact that this 'mother of all court cases' lasted for ONLY five months was another feat about the Petition. Yet again, not only did the petitioners calmly accept the verdict which went against them they also urged their followers to accept it as such. An indeed the verdict did not in any way disturb our peace contrary to the fears of many. But rather than Ghanaians of both sides of the political divide congratulating one another for succeeding where others have failed all we hear from government communicators is that the economic problems facing the country now are attributable to the court case. Indeed sometimes when you hear them speak you begin to wonder if it was the petitioners who selfishly inserted that clause in the Constitution that allows parties to take election disputes to the Supreme Court. They've said everything including revenue loss to the GTV because of their live broadcast of proceedings and loss in productivity because Ghanaians watched it.
Now, barely a year after the Election Petition you switch to GTV in the mornings and what do you see? Live broadcast of proceedings of a Presidential Commission to investigate what went wrong with Ghana's participation in Brazil 2014! Indeed many Ghanaians may be interested to know whose negligence or incompetence it was that resulted in our disappointing performance in Brazil but I'm surprised at the courage President Mahama had in setting up this Commission because of the way his own people have continued to blame the Election Petition for all the ills we now face as a nation. If it's assumed that a Presidential Commission set up with public funds and being broadcast live on TV; carrying supporters to Brazil to seek political asylum under the pretext of watching Black Stars play when they would normally not watch them play in Ghana is not going to collapse our economy then I think any attempt to link the current state of our economy to the election petition is not only mischievous but also malicious.
In conclusion, it is my firm opinion that if we want to be truthful to ourselves as a nation perhaps what we should consider doing is to set up a Commission to investigate the character and mind-set of our political leaders with a view to finding out what exactly is wrong with them or why God imposed them on us.

Kwame Twumasi-Fofie
[email protected]