Emmanuel Ikazoboh Heads ETI Board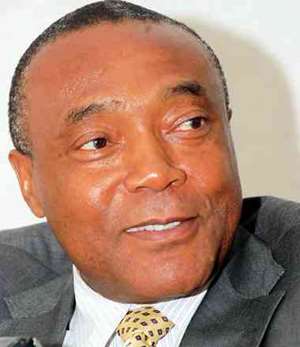 Emmanuel Ikazoboh
Emmanuel Ikazoboh
At the just-ended Annual General Meeting (AGM) of Ecobank Transnational Incorporated held at its headquarters in Lomé, Emmanuel Ikazoboh, an accountant with 35 years experience, was appointed as the Group's new Chairman.
Mr. Ikazoboh has played roles in international business management and corporate advisory capacities in both the private and public sectors and spent much of his career with Deloitte in West and Central Africa.
A press release from the bank, which made this known, said in accordance with the Governance Action Plan approved at the bank's Extraordinary General Meeting in March of this year, there has been a significant re-organization of the Group's Board of Directors.
Sena Agbayissah, Kwasi A. Boatin, Assad Jabre and Sipho Mseleku have retired as directors.
The new Board comprises three executive directors (Group CEO, Albert Essien, Deputy Group CEO and Group COO, Evelyne Tall-Daouda, and Laurence do Rego, Executive Director, Finance) and nine non-executive directors.
In addition to the Group Chairman, the Non-Executive Directors include André Siaka, who represents shareholders in CEMAC, Dr. Adesegun Akinjuwon Akin-Olugbade, representing
Nigeria and Anglophone minority shareholders, André Boboé Bayala, representing UEMOA and Francophone minority shareholders, and Tei Mante, representing WAMZ.
Others are Kadita Tshibaka, representing the IFC, Hewett Adegboyega Benson, representing AMCON, Bashir Mamman Ifo, representing EBID, and Dr. Daniel Matjila, representing the Public Investment Corporation ('PIC').
Addressing shareholders at the AGM, the outgoing Interim Chairman, André Siaka, commented: 'The board is committed to establishing the highest standards of corporate governance. We will learn from the recent past, address all of the issues and lay firm foundations for Ecobank's continued success in the future.'
Reviewing Ecobank's 2013 financial results, Group Chief Executive, Albert Essien, said: 'The fundamentals of our business are strong and I am excited by the huge potential of our unique platform. However, I will not shy away from key areas that need to be addressed, including improving our profitability by driving efficiency across our entire network. Our performance in the first quarter of 2014 has been significantly ahead of the equivalent period last year, which gives the board confidence regarding Ecobank's prospects for the year as a whole.'
In 2013, Ecobank Ghana generated revenues in excess of US$ 2 billion while the Group's total assets amounted to US$ 22.5 billion.
A business desk report