Sudan rebels shell Kordofan state capital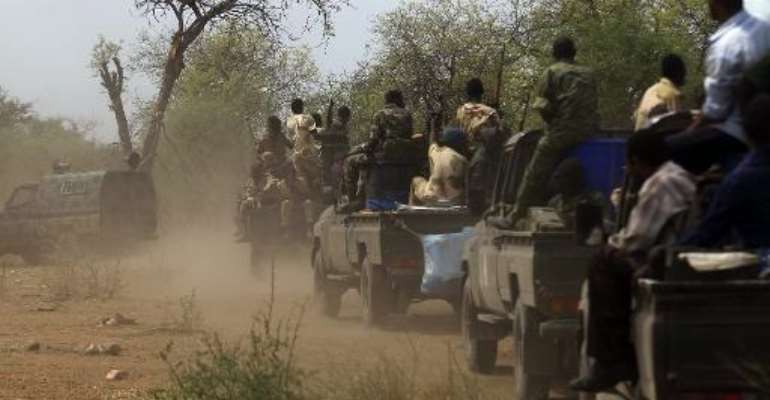 Khartoum (AFP) - Rebels in Sudan's war-torn South Kordofan region shelled the state capital Saturday during what they called a counter-attack on an area the government said it had seized in early June.
A resident of the town confirmed the shelling, saying rounds had passed over his house.
"Two rockets or mortars from SPLM-North" were fired into Kadugli town, the resident told AFP, asking for anonymity.
Reports of casualties could not be immediately confirmed.
A statement from the Sudan People's Liberation Movement-North said "our artillery unit shelled military positions inside Kadugli city" as well as in the Daldako and Al-Hamra areas outside it.
The strike on Kadugli occurred as rebels launched an offensive against government forces in the Al-Atmur area east of Kadugli, SPLM-N said, adding the rebels had destroyed a tank.
Fighting in the area has intensified over the past couple of months, and Sudan's Armed Forces announced on June 6 they had "liberated" Al-Atmur.The Kadugli resident said he could hear the fighting which began about 6:00 am (0300 GMT) and continued for about four hours.
"There was mutual heavy artillery from the two parties," he said.
Sudan's military spokesman could not immediately be reached for comment.
SPLM-N has periodically shelled Kadugli since late 2012 in attacks the government says have killed civilians.
On Wednesday, rights group Amnesty International said the government's intensified aerial bombing of South Kordofan in recent weeks may be part of an attempt to starve the population.
A senior ruling party official, Rabbie Abdelatti Ebaid, countered it is the government's responsibility to protect civilians, while aiming to establish peace and security in the area.
Like the 11-year conflict in Darfur, the three-year-old South Kordofan war has been fuelled by complaints among non-Arab groups of neglect and discrimination by the Arab-dominated regime in Khartoum.