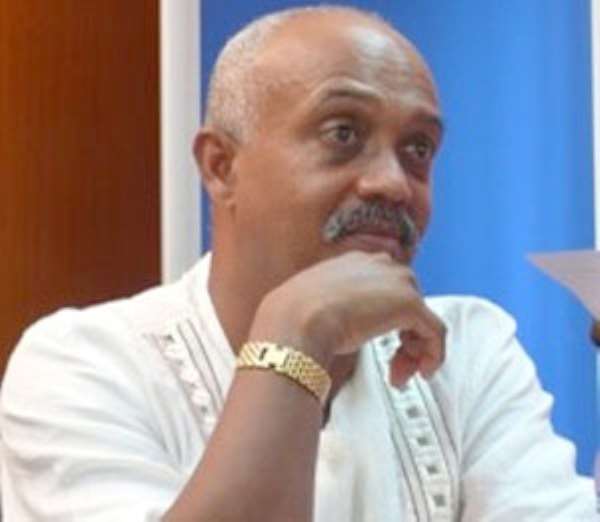 Barclays says the economy is on a downward roll.  Fitch says stable down to negative.  International Monetary Fund (IMF) revised growth down from 8% to 4.8%.  Reuters says currency has depreciated 14.6% this year, down in comparison to the same time last year.  The Africa Center for Economic Transformation (ACET) says we have transformed backwards and we in Ghana who belong to any credible independent think tank, buy Kenkey from Osu or have an independent analytical view, say Ghana has gone down and lost its economic alleyway.
But our Government says things are looking up, so which seesaw are you riding?  Where is this economic seesaw headed if not bloated-debt down?  By the way, Government has still not taken up my suggestion to publish a list of all borrowed money and purposeful use.  How dare my impudent self, suggesting such a good governance thing?
As children you remember how you get on a seesaw and if the heavy dude in the neighborhood sits opposite, you know you don't have a chance in Kotobabi to leverage your weight down hard enough to enjoy the thrill of the up and down.  You won't even get the chance to crunch down and bump the other side higher into the air or even the sudden jump off to see how the opponent arrives to earth.  The children still do it today.
This is what we have in Ghana.  Too much debt on one side, not enough mass on the revenue side to give us any momentum to balance on the fulcrum.  The pleasure of a seesaw ride is in the even balance on both sides; equilibrium is the pleasure of the game.
The ACET issued its report on economic transformation in Africa.  I liked the report immensely because it is by Africans for Africa.  Not Fitch, Forbes or Reuters for Africa.  Unfortunately it does not speak good about Ghana.
We came in 16th place overall, a drop of seven places since 2000 partly because the country's exports are becoming less sophisticated; foodstuffs and gold dominate (82%) while the share of manufactured products is dropping (around 15% in 2008).
At the launch was a slew of Ghana's who is who in the economy, all of the eminent persons influential in the economy in one way or another.
Reading the list of qualified persons and well-known icons, I slithered a tear, thinking 'where is hope if all these 'gurus' as they were described could not fix a simple country like Ghana'?
Mr. PV Obeng remarked 'we have become devotees of the principles of transformation, and we have to find the political system that will transform our economy,' before underscoring the need for the NDPC to be depoliticized.  He was batting for his corner.
Barclays Bank has been particularly open on the Ghana economy, probably derived from its insights on emerging markets and a better view of the optimism in those economies.
In a recent report, Barclays writes, 'There are also signs that the recent growth slowdown in some key emerging markets may be bottoming out. In China, for example, the nation's economy expanded 7.8 percent in the third quarter of the year, up from 7.5 percent in the previous quarter. China has been a catalyst for export growth in many emerging economies, so this could be good news for them, especially for those that export natural resources.
Despite the cautious optimism, investors should remember that emerging markets are a decidedly mixed bunch. In the short term, for example, prospects look better for those in Asia than for those in Eastern Europe and Latin America.'
Notice there is no mention of emerging markets in Africa in this bulletin.
And here is another recent report from FORBES on emerging market portfolios.  Luckily for Africa, South Africa makes the roll call as a potential risk in the resurging emerging markets.  If you get the chance to read the report, it will be clear to you that Ghana and even Nigeria, are never a concern to emerging fund managers in the West.
We don't really have an economy that has a critical enough mass to be of concern in the world.  At least not yet.  Brazil and China are deliberately positioning their currencies to depreciate against international currency in order to maintain trade balances and we are doing the reverse.
I made a case a few weeks ago that we would do better to allow the cedi to fall, ease the pressure on financing the artificial value and boost non-traditional exports.  Make the products more affordable and entice market activity outward.
This policy can also support the recent pressure to sign the Economic Partnership Agreement with Europe, a policy I endorse fully and suggest that Government signs without hesitation.  There is a public forum to discuss this issue on Thursday 17th and hopefully there will be a strong case for supporting the policy, including an ECOWAS-wide decision to move ahead as a trade bloc.  For those who see the EPA as a Europe thing only, please note how our trade direction has veered Chinese and understand how Barclays' reading on the market sees China as the critical driver in emerging markets.
Aren't we tired of a poor Africa full of problems labeled 'challenges?'  We need to spunk our lives with determination juice and rise to difficult problems.  The uphill task is not only about climbing hills with a bucket of water on your head and affording a small solar lantern when the power fails.  It is about turning economies around once and for all, forever.
Ayittey Powers to lose his license?  Deservedly so.  But I think he needs a psychiatrist more than a denial of boxing license.  The Ghana Boxing Authority has signaled its intention to put Ayittey on the unemployed market.  But why blame him?  Didn't TB Joshua tell him not to fight Bukom Banku?  He is scared of Banku.  Isn't the Holy Spirit no longer in the fear-fixing business?
Anas Aremeyaw Anas and DVLA.  Before Anas was, I is.  See my report at the DVLA a year ago.  Two weeks in a row I commented on corrupt ways at the DVLA.  But thanks that Anas has also seen this and taken it up another peg.  Don't listen to the BS Government is doling out.
How can anyone who has had anything to do with the DVLA say they are not aware of what goes on there?
Minister Dzifa Attivor must sit up and pay more attention to the departments and agencies in her care and stop pretending that corruption at the DVLA is a novelty.  Even before she was made minister she should have known it was a hot bed of corruption, how much more now that she is in charge and has more insight?
Same with SADA and Dr. Mustapha Ahmed trying to tell us he has up to 2030 and beyond to show results in the SADA territory.  Corn grows and harvests in a year.  Akonfem lay eggs and hatch at least twice a year if fed properly and vegetables and other seed crops? They are perennial and can be cultivated all year round with the right conditions.
Sheanuts are available seasonally every year, Soya is grown and harvested every year and you could get two crops in a year.  I can go on and on without halting.  Sometimes and too many times we are assumed stupid until we outsmart politicians.  Listening to the Presidential appointee talking on CiTi fm I wondered if we really have to be teaspoon-fed such sugarcoated corruption all the time?
So Paul Afoko is now the Chairman of the New Patriotic Party and Kwabena Agyapong party Secretary; but not before some persons maimed and killed a handful of peaceful revelers enjoying moments of peace in Tamale.  Incumbent Jake Obetsebi Lamptey lost totally, coming last of the four candidates.
Alan 'cash' Kyeremanten, already in celebratory mode heralded change on a bigger scale to come, barbs at the NDC that Ghanaians are vibing for change.
Well, the way I read this, when a political party trumpets 'winning power' instead of 'forming a government,' I think the desire is back to front.
Our politicians see winning elections as winning power, not service to the people of this country or to govern them fairly.  Power is what they trumpet before they get to govern and that's how it seesaws; four years downward, salivating power!
Ghana, Aha a ye de papa.  Alius valde week advenio. Another great week to come!
Sydney Casely-Hayford, [email protected]