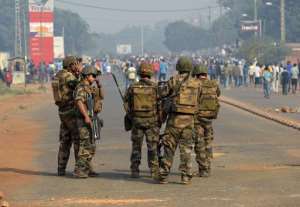 French troops of the Sangaris Operation stand guard as anti-Seleka protesters demonstrate calling for the resignation of the Central African Republic president in Bangui on January 10, 2014. By Eric Feferberg AFP
Brussels (AFP) - European Union nations agreed in principle Friday on a plan to launch a joint military operation in Central Africa to help restore security there amid fears of civilian massacres.
Ambassadors from the 28 member states gave preliminary approval to plans for the rapid deployment of hundreds of troops to help African and French peacekeepers already on the ground restore "a safe and secure environment" in the Central African Republic, EU officials said.
"Member states agreed that the EU should contribute to the restoration of security" in the Central African Republic (CAR), said a spokesman for EU foreign policy chief Catherine Ashton.
"There will be further talks next week," said an EU diplomat.
A final decision is expected to be taken by the bloc's foreign ministers at talks in Brussels on January 20.
With the CAR's institutions in shambles, the plan favoured by EU states would see troops from Europe take on policing duties in the capital while protecting refugees and aid workers, and possibly safeguarding the airport.
Intervention would be limited in time and subject to UN approval.
As sectarian violence worsens between Christians and Muslims, "EU states don't want to stand accused of standing by and passively watching. Nobody wants a new Rwanda," an EU diplomat told AFP this week.
Under a UN mandate, 1,600 French and 4,000 African peacekeepers have deployed in the country in recent weeks to end violence between Christian militias and ex-rebels who installed the country's first Muslim leader in a coup in March.
More than 1,000 people are believed to have died last month alone with almost one million people driven from their homes, including half of the residents of the capital, Bangui.
Under an EU proposal for military action, the "pressing need" is to restore security to "avoid CAR sliding towards complete state failure on the previous Somalia model, and large scale massacres against the civilian population".
"Restoration of security can only be achieved through increasing the military presence on the ground," the document states.
It suggests dispatching "rapidly" a force that one diplomatic source could number around 1,000.