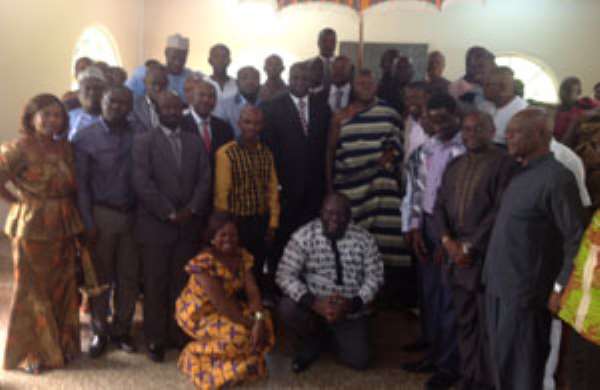 After the thorough assessment, the Asante Monarch noted, 'If you are satisfied with their output so far, then, you should know that the people that you are governing will also be happy.'
He, however, said, 'If you are not satisfied with your own performance so far after the assessment, then you should bear in mind that the masses, who gave the NDC government the mandate to be in political office, will also be unhappy.'
Otumfuo reminded the MMDCEs that just as the electorate would assess the performance of the NDC government in the next elections in 2016, so would the people assess the performance of the MMDCEs when they seek to retain their positions after their terms had elapsed.
He, therefore, charged the MMDCEs to make the supreme interest of the people in their localities to be their grand agenda, cautioning the MMDCEs against making themselves as thin gods and also refrain from lording over the people.
The Asantehene was speaking when the Ashanti Regional Minister, Eric Opoku, led about 28 MDCEs in the region to the Manhyia Palace in Kumasi to wish Otumfuo merry Christmas on Monday.
Otumfuo admonished the MMDCEs who are the representatives of the President in the various areas, to contribute their quota so that the people would benefit from government programmes to better their lives.
According to him, the success story of the MMDCEs would go a long way to give glory and honour to the President who appointed them to office, adding that the MMDCEs' failure would also affect the image of the government.
The Deputy Ashanti Regional Minister, Samuel Yaw Adusei and Kojo Bonsu, the Kumasi Mayor, were present at the palace. The minister's entourage later presented gifts to the King.
In his succinct remarks, Hon Eric Opoku admitted that 2013 had been challenging, assuring that the government and for that matter the MMDCEs would work above themselves to make life better for the people in 2014.
The Ashanti Regional Minister commended Otumfuo for his wise counsel, pledging, on behalf of the MMDCEs, to do their maximum best to help transform their areas to help better the lives of the masses.
 FROM I.F. Joe Awuah Jnr., Kumasi