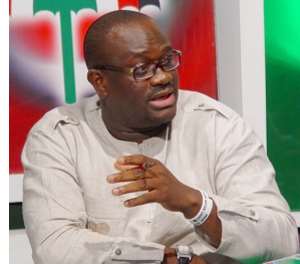 Stan Dogbe
Editor-In-Chief of the New Crusading Guide newspaper, Kweku Baako Jnr., wants President John Dramani Mahama to show his presidential staffer, Stan Dogbe the exit.
According to him, Stan Dogbe needs 'grooming' in order to handle his current position in government.
Criticizing the amateurish proficiency of Stan Dogbe at the Presidency, Kweku Baako averred on Peace FM's 'Kokrokoo' on Wednesday that he had created serious problems for the President through his hasty and scathing riposte to one of President Mahama's 'Three Wise Men.'
The brouhaha started after Alban Bagbin, the Nadowli-Kaleo MP raised concerns about the lacklustre manner in which the President was tackling corruption in his administration.
He also asserted that the president had become inaccessible.
But the MP received some flak from some government appointees for his outburst, with a presidential staffer, Stan Dogbe leading the charge.
The Presidential Staffer, on his facebook page, described Alban Bagbin as a liar and an enemy within.
'No such call was placed by Bagbin to the president…If you are unable to reach him as you claim, how did you then reach him to tell him you'll be going public with your advice?
Meanwhile, Mr. Bagbin knows he was lying to the people of Ghana and the world when he made these claims,' Dogbe wrote on his wall.
He further questioned the stewardship of Mr Bagbin when he was a Health Minister in the Mills administration, and blamed the alleged corruption being perpetrated at the Korle Bu Teaching Hospital on the former Minority Leader's failure to fight the canker.
'What concrete actions did Hon. Bagbin take as Minister for Health when issues of concern arose in Korle Bu? If he had acted decisively and in the manner he is spewing out now, would we have been where we are?' he rhetorically asked.
Shocked by the angry reaction, Hon. Alban Bagbin chided President Mahama for appointing people like Stan Dogbe.
'If such characters as Stan Dogbe are those managing the president, then our president is naked, very naked,' Bagbin charged.
on the issue on Wednesday, Kweku Baako said Stan Dogbe did not exercise good judgement in his response considering the stature of the former Minority and Majority Leader.
According to him, 'The manner of his reply shows he is not mature enough neither is he 'cut for that particular office.
'What he (Stan Dogbe) did, it's a sign that he's not mature in that area…If you don't have that wit and sense of judgment which enables you to know that there are times you don't do something just so as to cover your boss' track or do it in order to cover his track but this one, this doing rather brings the President into the frontline and the crossfire…
So, obviously what Stan has done shows that he's not cut for that particular office. I'm sorry to say this but that's a fact.
'He has not helped his boss in any sense. Rather, he's created problems for him,' Kweku Baako said.
Peacefmonline.com