NDC Guru Condemns Nunoo-Mensah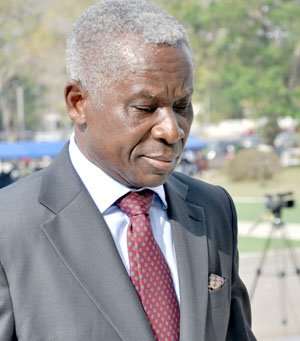 Brigadier-General Joseph Nunoo-Mensah (rtd)
The General's advice to Ghanaians to be disciplined is in the right direction, but telling Ghanaians to move out of the country if they can't make sacrifices is unfortunate and worrying, he indicated.
Speaking to Ark Fm, a radio station in Sunyani, Mr. Mahama said government should pay workers who embark on legal strike.
He said he would support calls by government to withdraw the salaries of workers who undertake illegal strike actions.
It would be recalled that the National Security Advisor took a swipe at workers who he said consistently used strike actions to express their grievances.
Many strike actions on the labour front is a sign of high-level indiscipline in the country, he mentioned.
The security advisor was speaking at the inauguration of a nine-unit classroom block he built for O'reilly Senior High School in Accra.
During the event, he called for the suspension of salaries of the aggrieved employees.
Many commentators, including members of the ruling NDC, have criticized the comments by the security capo while others have called on him to retract his statement.
The Brong Ahafo Regional Communication Director of the New Patriotic Party (NPP), Kofi Ofosu Boateng, in his submission, also called on presidential staffers to stop making inflammatory comments.
'If the government feels it's difficult to rule the country, they should leave it for Ghanaians to choose competent people to rule the country.
'If they can't manage the country, the Brigadier and his government should also back off and allow competent people to rule,' he added.
 From Vivianna Mensah, Sunyani