Strategies to fix budget deficit are cosmetic- Gyan Baffuor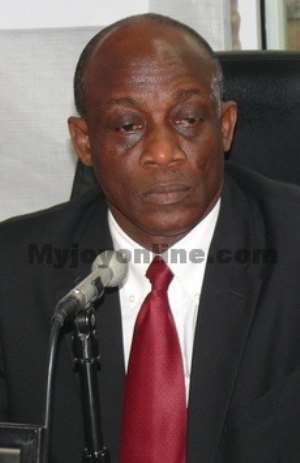 Seth Terkper, Finance Minister
Former Deputy Finance Minister, Professor Gyan Baffuor is demanding pragmatic steps to address the huge budget deficit which he says has the potential of crippling the economy.
According to him, the programmes outlined by the Finance Minister, Seth Tekper in the 2013 budget statement are cosmetic.
Last year's deficit stood at 12 percent of GDP instead of the projected 6.7percent.
In essence, government spent about 8 billion Ghana cedis more than what was projected.
Mr Tekper said the huge wage bill, shortfall in corporate taxes, grants, and high cost of borrowing were causes for the deficit.
He outlined steps including hikes in fuel prices, revenue mobilization, better tax administration and a prudent management of the single spine salary structure to address the challenge.
But Professor Gyan Bafuor insists the statement is vague.
He was disappointed that the minister did not give figures of how much tax it wants to impose on Ghanaians.
That he said is a huge source of worry for businesses men who need the information in order to plan their businesses well.