Basketball : Knee injury by Kylie Howard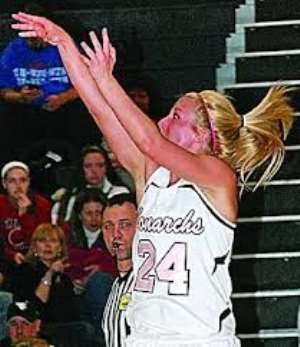 For athletes, injuries sometimes are the most deadly of opponents. So when John Marshall's Kylie Howard tore her posterior cruciate ligament (or PCL), everyone feared the worst.
Furthermore, according to Monarchs coach Mark McCormick, looks may be deceiving.
"With Kylie's injury, obviously it wasn't as bad as what they thought," McCormick said. "She just sat out for a while and just rested it. " But with Howard on the bench, the basketball started to have a hard time finding the basket. "We struggled pretty mightily (with her out)," McCormick noted.
On Feb. 15, after missing nine games, Howard returned to the starting lineup against University on JM's senior night.
"I was really happy I could come back and play my senior night," Howard gleamed. "I felt really good out there."
"I've never coached a girl that has had that competitive desire," McCormick said. "All my girls have it, but for someone who has an injury and wants to compete, regardless of what the outcome may be, you can't ask for anything more.'
"I think our girls feed off her. I don't want to say she sets the tone because we're a team, but I just think having her back in the lineup is kina like getting back into an old habit. It just kinda fits."
Though the senior is back in action, she still isn't quite back to full strength.