Ama Benyiwa Doe, David Kanga, others appointed to Council of State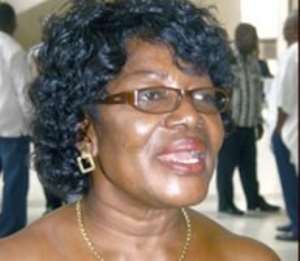 Ama Benyiwa Doe
President John Mahama has appointed a number of persons, amongst them the immediate past Central Region Minister, Mrs Ama Benyiwa Doe to the Council of State.
The chair of the Council is John Henry Martey Newman, who was the immediate Chief of Staff under the late President John Mills.
The other members of the Council include Cecilia Johnson, Brong Ahafo Region, Nana Osie Asibe, Ashanti Region, Patrick Enyonam Agbogba (Togbui Sri) Volta Region.
The others are Rashid Sulemana Mahama, of the Northern Region, Okogyeman Kweku Gyamerah of the Western Region, David Kanga of the Upper East Region, Ama Benyiwa Doe of the Central Region, Edward Gyader of the Upper East Region, Abraham Kweku Edusei representing the Eastern Region and Dr Rabiatu Deinyo Armah of the Greater Accra Region.
The council of State members were sworn into office by the president on Wednesday.