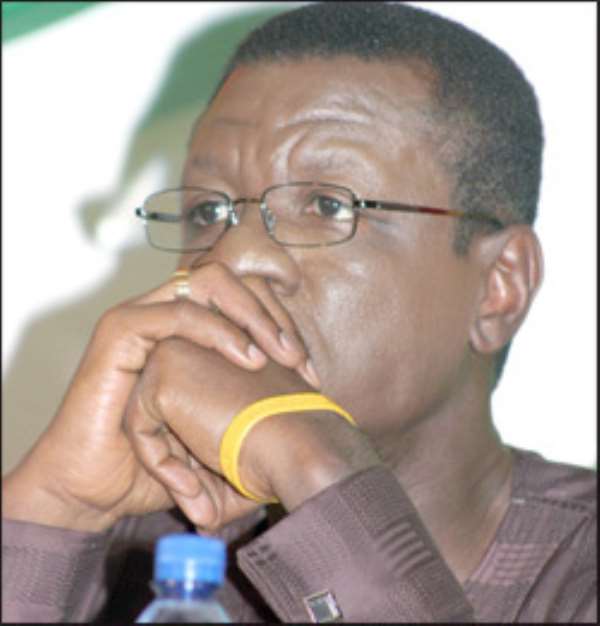 Pastor Mensah Otabil Will Continue To Pay Tax & Still Get Free Education!!!
According To The So-Called Pastor Mensah Otabil, "I Pay Taxes And You Say You're Giving Me Free Education...I Don't Believe It." 
The General Overseer of the International Central Gospel Church (ICGC), Mensah Otabil, an ignorant and claimed highly respected man of God?, said (from ignorance, egoism and partisan) "education can never be free and those who believe such promises that fees will be free, do not understand what goes into the payment of such fees by parents."
The ignorant Pastor Otabil, who claims to be a man of God? and therefore exists from sucking money from his church members without sweating can't understand how hard it is for parents to work and pay both Tax to the government as well as Fees for the Education of their wards, he is such an ignorant and a hypocrite that he is refusing to accept the fact that "almost everybody" who is at least working in the country must pay Tax to the government, irrespective of having a ward in Educational institution whereby you also have to pay for his/her education. 
The partisan pastor and "so-called man of God" is gossiping about to polluting the minds of the good people of Ghana that, once you pay Tax Education can never be Free.
His position is in variance with promises made by the Progressive People's Party (PPP), the Convention People's Party (CPP) and the main opposition NPP about making education from the basic level to the Senior High School level free. Addressing a congregation, Mensah Otabil implicitly rejected the concept of free education saying, "some politicians say when we come to power nobody will pay fees, and I am sure when you hear all of that you are happy. Education can never be free".
According to him, parents still pay for their wards' education through taxes. This is exactly the point where the ignorant, partisan and confused Mensah Otabil can't even get the difference between "Tax Paying & Free Education", and therefore beating about the bush with his bogus argument at the expense of parents and their children/wards.
I don't know the Chancellor of the Central University College, according to Mensah Otabil, who might have said, and I quote, "Education can never be free, somebody is paying for it. When they come to you and say free education, you are happy, you know why you think you don't pay fees, it's because you can't even understand what is going into it. Nothing is free, you are paying for it, only that you are being told you do not pay. You pay it through taxation, the taxes you pay...I pay taxes and you tell me you are giving me free education when it is my taxes that are paying for it? So don't tell me free education". This is the exact statement from the Chancellor according to Mensah Otabil.
You see! a whole chancellor of a University College is also out there to talk that rubbish. Just trying to confuse some people because of may be his own personal interest. I can't believe that a whole Chancellor does not know the difference between "A and B" or "Left and Right." Let me bring it straight away to the door steps of both Mensah Otabil and (that his friend) Chancellor that, paying Tax and paying Fees for education makes 2 payments, so if you are Freed from paying Fees for education (as a policy of NANA AKUFO-ADDO and his NPP party) it remains only Tax payment, which having a ward in the school or not you have to pay. TAX is one thing and Fees for Education is another thing, >> (2-1=1).
What is very strange and difficult for Mensah Otabil and the University Chancellor to understand about this class one calculation? They must stop messing around with the future of our children with their dirty partisan politics!
It's sad that most so-called pastors and men of God in the country do not preach about God but rather preach about politics for the sake of DOWNLOADING some cash figures into their pockets.
FRANCIS TAWIAH (Duisburg - Germany)