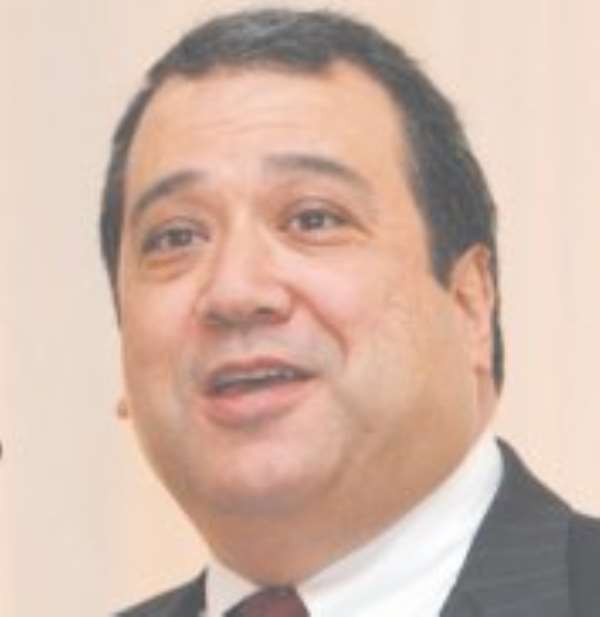 Outgoing US Ambassador to Ghana, Donald G. Teitelbaum
The outgoing US Ambassador to Ghana, Mr Donald G. Teitelbaum, has expressed confidence in the ability and judgement of the Ghanaian to go through the 2012 Election peacefully.
He declared, "we have a lot of faith in the common sense and wisdom in the Ghanaian people; there is real wisdom in the Ghanaian to go through the forthcoming election peacefully."
At a round-table final official media interaction, Mr Teitelbaum said that he had been consistently impressed with the Ghanaian across the length and breadth of the country.
Ambassador Teitelbaum bids a fond farewell to Ghana after completing a four year tour of duty. The conference afforded the practitioners an opportunity to gain insight into the U.S. relationship with Ghana.
"As election draws closer, its pretty clear Ghana wants to see a honest and fair elections with a winner who is equally gracious to the loser," Ambassador Teitelbaum told the selected media practitioners at the Multi Purpose Room of the United States Embassy in Accra on Wednesday.
He said he could not fathom any reason why Ghana would get the election wrong saying "I walk away very impressed with Ghana".
"I am not concerned about civil war. I am not saying that we cannot have an incident during the election period but I am confident it would not degenerate into a civil war," he stated.
He described the ties existing between Ghana and US as matured, very broad and deep.
At the personal level, he said it was a bittersweet moment to depart Ghana.
"I enjoyed Ghana and I am proud to be associated with Ghana."
He said Ghanaians had the finest democracy in the continent and the US was justifiably proud of Ghana.
Among, the landmark achievements of US ties with Ghana, he mentioned the contribution of US Peace Corp Volunteers in Ghana's development.
He said currently, trade between US and Ghana was up by 220 per cent and was looking forward to Ghana taking advantage of the prospects of AGOA which is aimed at opening up US markets to African countries.
He also singled out visits by three sitting US President - Bill Clinton, George W. Bush and Barak Obama - as highly significant in the US -Ghana ties.
He said that all these visits were in recognition of Ghana's democratic credentials and good governance as well as for the US to lay out its vision and strategy for Africa.
On the vexed issue of gay rights, Ambassador Teitelbaum called for an open dialogue on the issue to enable Ghana proffer its own homegrown solution.
"It is not for me to tell Ghanaians how to think or how to act, but what I would say is that I really do believe that Ghanaians, first and foremost (I see it everyday in the way Ghanaians act), Ghanaians accept the idea of respecting people's fundamental rights, as you threat each other everyday."…it is my view, that Ghana properly need to do something like we have done in the United States, and have open respect for dialogue about how you can reconcile your belief and rights because the Ghanaian constitution, as I understand it, guarantees rights base on citizenship," he advised.
The issue of gay rights had attracted controversy with some Western governments, including the United kingdom, threatening aid sanctions to African countries if they don't review their stance on gay rights and homosexuality matters.
Donald Teitelbaum was nominated by President Bush on March 5, 2008, to be the next ambassador to Ghana. He was sworn in on July 16, 2008. He presented his credentials at post in August.
Donald Teitelbaum recently served in Pretoria, South Africa as Deputy Chief of Mission. He served as Chargé d'Affaires from late August 2005 after the departure of Ambassador Jendayi Frazer, until the July 27, 2006 arrival of Ambassador Eric M. Bost.
Ambassador Teitelbaum joined the Foreign Service in October 1985 and previously served at U.S. Missions in the Dominican Republic, Guyana, Kenya, Somalia, Sudan, Lebanon and Uganda. Prior to arriving in South Africa, Ambassador Teitelbaum was a Director of African Affairs at the National Security Council in Washington, D.C.
Ambassador Teitelbaum's foreign language skills include Arabic and Spanish. He received a B.A. in foreign affairs from the University of Virginia in 1985.
Ambassador Teitelbaum's professional recognitions include a variety of individual and group awards including the Superior Honor Award, Meritorious Honor Award, and the Award for Valor.