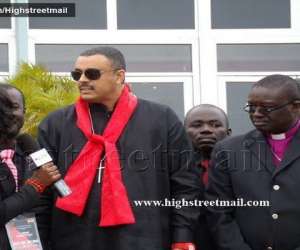 A leading member of the ruling National Democratic Congress (NDC), Kakra Essamuah says calls by certain individuals and groups for an inquest into the circumstances leading to the death of President Mills are irresponsible.
The Ghana Medical Association (GMA)appealed to President John Dramani Mahama to order a full Presidential inquest into the cause of death of late President John Evans Atta Mills, who died on July 24.
According to the GMA, the outcome of the investigation will help shape policies on the medical management of political leaders such as Presidents and other dignitaries in the country.
President Mills' brother, Dr. Cadman Mills revealed last Friday that the late President suffered a massive stroke before he was pronounced dead at the 37 Military Hospital.
But speaking on Asempa FM's Ekosii Sen on Monday, Kakra Essamuah noted that the GMA does not have the capacity to ask for what killed the late president because it is none of their business.
"GMA has no business knowing what killed President Mills. The Chief of Staff told all of us that the president died at the 37 Military Hospital while receiving medical attention. The same statement was seconded by President Mahama when addressing the nation in parliament when he was sworn in as president, so is the GMA telling us these two officials lied to Ghanaians?
The member of the NDC's Communications team stressed there is no need to dispute Dr. Cadman Mills' revelation that his late brother suffered massive stroke before he died.
Mr. Essamuah stated he is not against an inquest into the the late President death but added that those demanding it must justify their demands.
The member of the NDC's Communications team further took a swipe at the General Overseer of the Light House Chapel International, Bishop Dag Heward-Mills describing him as being irresponsible for wading into the matter.
He says the Man of God cannot express shock over the death of the president after declaring that as a medical doctor, he [Hwward-Mills]saw President Mills was not well.

Story by Twum Barima/Asempa News/Ghana