Rocky road ahead for Queens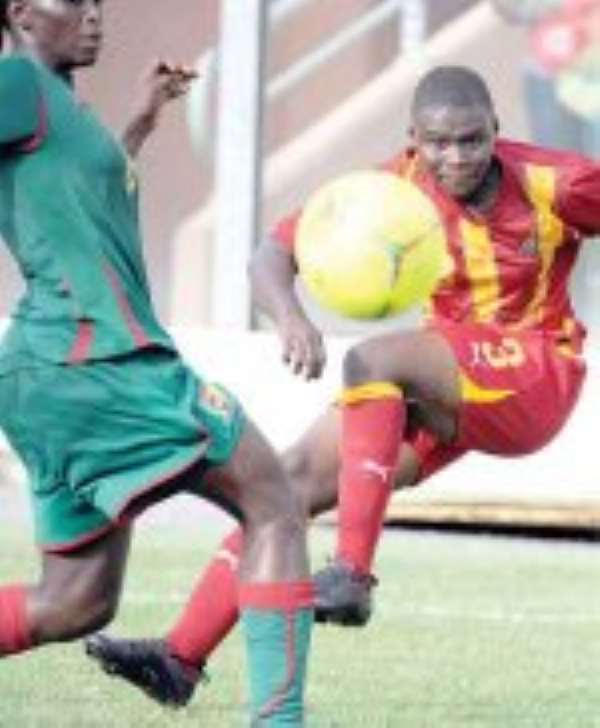 Edem Auvor, who finished as the player of the match was a pillar of strength in the Quuens defence
Ghana's Black Queens have chosen a rocky road towards qualifying for the eighth African Women's Championship (AWC) after blowing up their chances against Cameroun last Saturday.
The Queens, who hosted the first leg of the final qualifying match at the Accra Sports Stadium, managed draw 1-1 with the Camerounians, thus rendering the return leg clash in Yaounde in three weeks time a rather difficult task.
From the way the Camerounians played — physical and rough — there is no doubt that the Queens will need a miracle to overcome the resolute Indomitable Lionesses when they meet for the final encounter.
The Queens have themselves to blame for choosing this rough path as they failed to utilise the numerous scoring chances they could create but failed to utilise them.
As expected, the match was a tough one with the Lionesses coming up strongly dominating the midfield and frustrating the Ghanaians who surprisingly adopted long lobs and aerial balls tactics.
Not only that, Coach Kuuku Dadzie also adopted a defensive approach, one that worked to perfection in favour of the Camerounians who showed more cohesion and confidence on the ball.
At every given time when the Queens needed to attack, they left as many as four defenders at the back, making it difficult for the forwards Safia Abdul Rahman, Portia Boakye and Elizabeth Cudjoe to make any meaningful incursion.
But for the alertness and grit of Edem Atovor at the left flank, the Camerounians would have had a field day harrassing the Queens goal area. Unfortunately, it was Atovor's late recovery after she joined in attack which paved the way for Iven Mihamle to give the visitors the lead in the 62nd minute. With no pressure on her, Mihamle shot from outside the goal area and beat goalkeeper Nana Ama Asantewaa who allowed the ball to slip through her hands as eh attenpted to grab it rather than to parry it to safety.
The Queens struggled to score the equaliser as the Camerounians tightened their defence, and it took a brilliant freekick from captain Florence Okoe to score the much needed equaliser on the 75th minute.
Lionnesses' coach, Enow Ngachu, was confident the second leg a done deal for his side who are also using this qualifiers as preparations for the 2012 Olympic Games in London.
" I can confidently say that we have a leg at Equatorial Guinea as there is no way we will allow the Queens to beat us at our home in the second and final leg," he told the Graphic Sports.
He was happy that his plot to frustrate the Ghanaians worked to perfection even though he acknowledged his side were lucky to escape defeat.
Coach Dadzie, while admitting the difficulty of the return leg, noted that an away win for the Queens was not an impossible task. He said the team would use the next two weeks to correct their mistakes and take the Camerounians by storm in Yaounde.