Danger Ivorian Fighters In Town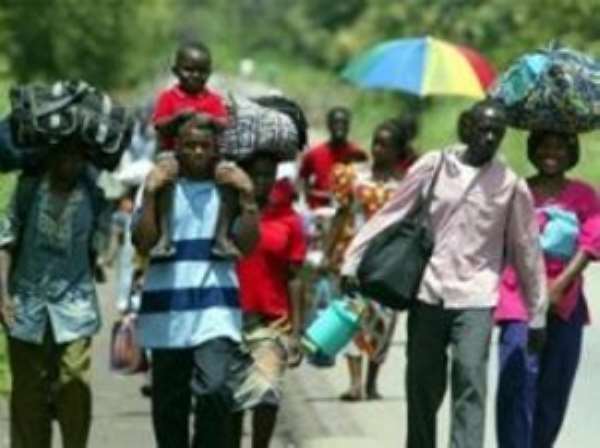 Ivorian refugees
Two hundred former Ivorian fighters have escaped from the Eagle Camp at Elubo, Western Region, where they were being held as refugees.
It was a movie-style escape which left their keepers, national security operatives and Ghana Refugee Board officials, dumbfounded.
They were due for relocation to the old Ankaful Prison when they fled their present location.
They are dangerous refugees, some of whom have engaged in bloody and sometimes fatal engagement with their colleagues at the camp.
With three refugees dying at the camp at the hands of their colleagues, the escape of the inmates of the confinement is an ominous development which calls for an immediate action to recover them.
Their decision to escape, information reaching DAILY GUIDE suggests, was informed by the misinformation that they could be heading for the Ankaful Prison when they were told they were going to be relocated as prisoners in a prison.
The development poses a number of security questions for us to ponder which we ignore at the peril of our national security. We are told that their relocation from their present location was because their proximity to the border was not in the interest of national security.
We have mentioned this before, especially during the biometric registration exercise when some of them were arrested for being in possession of the Ghanaian passport and others getting involved in the registration procedure because some NDC apparatchiks had asked them to do so.
We did point out that the need to relocate them from the place was in the best interest of Ghana but at the time some politicians thought they could use them to their political advantage.
Just why people would, out of a quest for political advantages, breach local laws, especially using foreigners is beyond our ken.
Today, the chickens have come home to roost and the problem we anticipated appears to have reared its ugly head for nobody knows what the ex-combatants are capable of doing, now that they are in the open world free of all encumbrances.
We are faced with a national security emergency and the need to seek and capture them cannot be overemphasized because among other security challenges, they can easily be engaged by local criminal gangs to perpetrate crimes against Ghanaians given their history in the dirty Ivorian conflict.
We have learnt, shockingly, how a refugee was set ablaze by some of his colleagues at the Eagle Camp, one of the three to have been murdered at the hand of fellow inmates at the holding camp.
We pause to ask whether so many months after the Ivorian conflict, it is prudent to continue to host these refugees, especially as we near Election 2012.
These are elements who have nothing to lose when they decide to do the bidding of desperate politicians in the forthcoming elections and rob law-abiding citizens.
After all, there are politicians in government who are ready to go and bail such miscreants. Let us consider repatriating refugees who are not ready to abide by our laws.
Hospitality which infringes upon our laws and sovereignty cannot be tolerated, regardless of the diplomatic backlash. Our country's interests supersede all others.