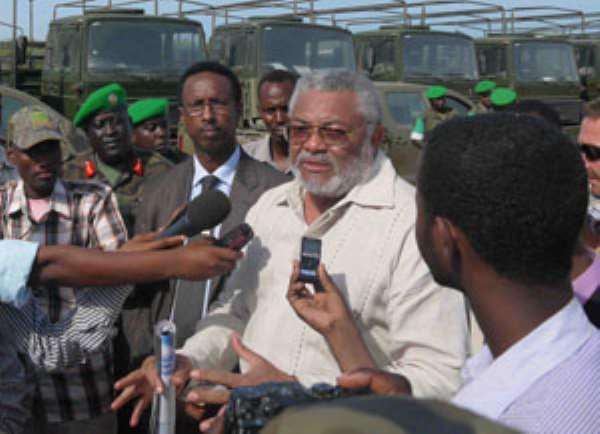 President Rawlings making his remarks at the handing over ceremony. in the background are some of the military vehicles
Ghana's former President and African Union (AU) High Representative for Somalia, Flt Lt Jerry John Rawlings has in a meeting with the Prime Minister of Somalia, Abdiweli Mohamed Ali called for renewed momentum and credibility in the Somali transitional process.
The AU High Representative said partners and donors will be more forthcoming with resources to support and enhance the process if they are convinced the process of selecting elders to choose the constituent assembly is a trusted and credible one.
President Rawlings, who was in Mogadishu on a working visit on Friday, also commiserated with the Prime Minister over a recent bomb blast at the National Theatre in Mogadishu which claimed the lives of some senior political leaders. Prime Minister Abdiweli Mohammed, who was at the theatre, escaped unhurt.
The Prime Minister, in response, assured the AU High Representative that every effort was being made to ensure a credible selection process for the Constituent Assembly so the transitional roadmap is concluded according to schedule.
President Rawlings later witnessed the presentation of thirty-three vehicles by the African Union Mission for Somalia (AMISOM) to the Somali National Army.
The vehicles, which included 16 Magirus Trucks, four Hilux Pickups, six Land Cruiser Pickups, one Water Tanker and six Water Trailers, were donated by the United States of America as part of its ongoing contribution to rebuilding the Somali National Security Sector.
Presenting the vehicles, the Deputy Special Representative Hon. Wafula Wamunyinyi thanked the US Government for the donation which he said will go a long way in complimenting the international effort towards the rebuilding of a national army for Somalia.
The Deputy Prime Minister, Hon. Abdulwahab Ugas Hussein Ugas Khalif received the vehicles on behalf of the TFG and expressed appreciation to the US Government for the donation.
He said, 'The donation will help reduce the challenge of logistical support, especially transportation of troops which the Somali National Army faced for a long time during their battle to battle extremists.
President Rawlings emphasized the need for good coordination among members of the international community in their support to the TFG particularly in the training of security forces.
He urged the Somali security forces to ensure high standards of discipline, protect human rights, especially for the disadvantaged people living in IDP Camps particularly women and children.
'TFG soldiers should fully respect and protect human rights and those that commit human rights violations and abuses should be removed from the military and held to account.'
President Rawlings called on the TFG leadership to resolve disputes emanating from the convening of the elders' conference and work closely to ensure that end of transition tasks are implemented in accordance with set deadlines.
President Rawlings has sent left for Addis Ababa, Ethiopia where he will on Monday address a meeting of principals in the Somalia transition process at the AU Conference Centre.