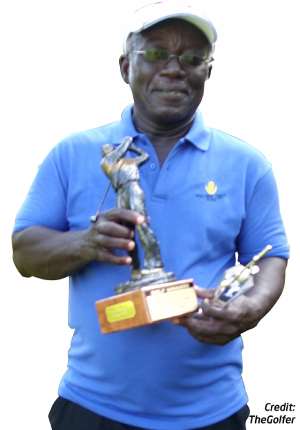 Albert Asiedu Ofei has finally found the winning rhythm as he pieced together a brilliant round of golf to emerge winner of the Golden Tulip Golf Tournament at the premier Achimota Golf Club. He has a rare golf passion; he is mostly seen playing all by himself for hours in a bid to shape his game up. And after four years in the game, he has made a strong run at winning his first major trophy.
"I am extremely excited, when I started golf, it was my desire to win laurels and I have started." He said. Finishing on stableford points of 40 with handicap 21 in the Men Division, the retired Health Service Administrator concedes that, consistency, high level of power and accuracy were the recipe for his win.
With a medley of play statistics; pars on the 15 to 18 holes on the back nine and 3, 5, 9 holes on the front nine helped put him in the winning range. He is 65 years and may not be able to hit beyond 200 yards, but again, he confides that setting his shots on the fairway was always an advantage especially in stableford competitions; a fantastic golf trait that perhaps engineered his hole in one feat two years ago. For his prize he took home a magnificent trophy, a voucher for two nights for two at the plush Golden Tulip Hotel.
Ben Asare clinched double on the day when he won a prize for Closest to pin on hole 18 and the second prize in the Men division with 39 stableford points playing off handicap 18. Third finish Chris Apau Oppong scored to a stableford points of 38.
Leticia Amponsah-Mensah is in a state of considerably better feeling, her continuous stay on the leaderboard with streaks of beautiful wins, has kept a shine on her game even when she assumed the Lady Captain position of Achimota a few months ago. She won the Golden Tulip event two years ago and gave it a solid run again among an equally solid field.
She recounts that, "good tee shots and excellent single putts were real triggers to my win today". Despite dangers that lurked on a few holes resulting in one triple bogeys and other bogeys, she made one par front nine and 6 pars back nine to a stableford points of 34 with handicap 14.
Her thriller of a win secured her a stunning trophy, a voucher for two for two nights at Golden Tulip Hotel. She also won a trophy and a laptop case for the Longest Drive prize. Second position in the Division went to Esther Amoah when she scored to stableford points of 34 off handicap 17 same as winner but was separated on countback.
Evergreen Mona may soon end her seemingly long days of winless games, as she managed to score same stableford points of 34 with a handicap of 8 to third place. She is so unanimous to trophies.
With waggles, great swings as well as close misses that characterized a rather hot weather game, the Golden Tulip 2012 event was a real thriller and underscored a tremendous golfing experience with equally exciting prize giveaways for winners in all the categories. There was even a promise to offer golfers 10% discount on buffet, lunch and dinner, branche and many other services by the Hotel.
Captain of the Club, Rene Gameli-Kwame was very appreciate of this gesture and thanked the Hotel for their continued support for the club. He also mentioned the very visible projects on the course that include an improved water supply system and a driving range that form part of the Tullow Oil sponsorship package for the club.
Also present were Managing Director of the 4-star superior First Class hotel, Mr. Sajid Khan, Sales & Marketing Manager Mrs Bertha de Graft-Johnson, President of the Club, Mr. Mike Ezan and a host of others.
Story by Collins Oppong
TheGolfer newspaper