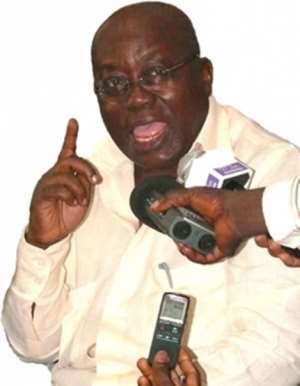 The Al-Hajj can today authoritatively report that Ghana's Opposition Leader and 2012 Presidential Candidate of the New Patriotic Party (NPP) Nana Addo Danquah Akufo Addo is feverishly planning an agenda that will continue to make him relevant in the nation's political discourse in the event he is defeated in the upcoming polls.
At 69, (by election time) and knowing this year's elections offered him the last opportunity of realizing his dream of becoming president like his late father, a former president of Ghana under the Busia regime, Akufo-Addo, has decided to stop at nothing to ensure his dream comes into fruition.
Intelligence reports reaching The Al-Hajj indicates that the NPP flag bearer's belligerent posturing ever since he lost to Professor John Evans Atta Mills in that acrimonious and most extensive run-off presidential elections in 2008, is not unconnected with his Nana Akufo Addo's unbending desire to, at-all-cost ascend to the high office of president of the Republic of Ghana.
Akufo-Addo's infatuation of becoming president is further enhanced by the history of his father, Sir Edward Akufo-Addo being made ceremonial president of the country in 1969 by Dr. K.A Busia, then Prime Minister.
However, his earlier attempts in 1998 and in the 2008 elections floundered and therefore he sees this third time attempt, as he himself succinctly puts it at Koforidua last year, an 'all-die-be-die' affair.
Nana Addo, knowing very well that this December elections could be his last chance given his advance in age, his waning popularity among Ghanaians since he lost in 2008, has resorted to the beatings of war drums at the least opportunity.
A source familiar with the New Patriotic party flag bearer and who doesn't want his identity disclosed in an interview with this paper, said Nana Akufo Addo wants to be president at all cost, even if it will mean 'power-sharing', as happened in Zimbabwe and Kenya after violence broke out in the aftermath of their respective countries' elections.
'You know, Nana Addo has been dreaming since childhood to emulate his father by becoming president of Ghana. In 2008, he nearly succeeded in getting Ghana adopt a power-sharing government, but for president Kufuor and the late Nigerian President Yar Adua.
Advertisement
'Unfortunately for Nana Addo, this year's polls, again seems not to favour him for various obvious reasons, hence, his resort to reckless statements such as 'We Akans are not cowards' and so '2012, All die be die!' and '…..at all cost we should win the election of 2012,' statements that are further alienating him from many more Ghanaians," he disclosed.
According to the source, with Mills' incumbency advantages, goodwill and the now acceptable convention of allowing presidents in Ghana to complete their optional two terms under the 1992 constitution, Nana Akufo Addo will have herculean task to dislodge President Mills and is most likely, to reject the 2012 election results and insist on a power-sharing arrangement.
In a related development, a Ghanaian Associate Professor in linguistic in the US, Dr. Michael J.K. Bokor says in spite of the fact that Ghanaians may be experiencing hardship, Nana Akufo Addo may not be seen as automatic replacement for president Mills; "although Ghanaians are complaining about living conditions and political opponents are jumping on President Mills, criticizing him over his leadership style, it doesn't mean that they see Akufo-Addo and his NPP as the automatic replacement or as Ghana's saviour. Many factors are at play and the NPP should not deceive itself that victory for it at the polls is a done deal".
In an article posted on the web last Friday, Dr. Michael J.K. Bokor is predicting the NPP leadership may have to fall off their "Yen Akanfuo" and "All-die-be-die" war cry by Akufo-Addo when it lose the elections.
"Probably, having already conditioned their followers for victory, the party's leaders have no other option but to turn to plan "B," which is encapsulated in the "Yen Akanfuo" and "All-die-be-die" war cry by Akufo-Addo. Then again, that is why Kennedy Agyapong has declared war on the ethnic groups that he and those in the NPP fostering the "All-die-be-die" war machinery perceive as the match spoilers.
"Having thus exposed their inner selves, they will not rest until the mayhem that they are hatching is unleashed and pursued to serve their political purposes. But they are deceived. From the barrage of condemnation emanating from the major segments of the Ghanaian society—except the NPP itself—it must be clear to those in the NPP banking hopes on mayhem as a strategy to win power that the going will be really tough for them". He stated.