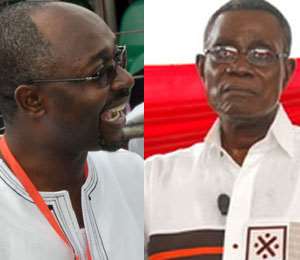 The Rector of Saint Peter's Basilica, has urged Ghanaians to vote the National Democratic Congress (NDC) government out of office if the government does not put in place the appropriate measures to resolve the Woyome issue well before the December elections.
Monsignor Raphael Owusu Peprah is of the opinion that with the current politicisation of the issue, if it is not resolved before the general election, it might be swept under the carpet after the election, or it might not be properly handled to its logical conclusion.
Monsignor Peprah who was speaking in an interview in Kumasi, said there was the need for people appointed or elected to public office to be serious, accountable and handle issues concerning the public purse with all the needed attention.
He added that all public officers mentioned or found guilty of any wrongdoing in the case should be dealt with according to the laws of the country.
Monsignor Peprah called on the opposition New Patriotic Party (NPP) and all Ghanaians to support the government to fight against corruption in all institutions in the country.
"All of us must be vigilant to save our country from the abuse in the system and the sheer buffoonery of some selfish political, civil, traditional and even religious leaders," he urged.
He expressed dismay at what he called the 'media trial' of the case which he said made matters worse by undermining the credibility of the law courts, adding that there was the need for the law courts to be allowed to do their work.
He called for the payment of judgement debts in the country to be looked at again since it impacted negatively on the ordinary Ghanaian who struggled daily to get a good meal.