Esiama Cabbies Root For NPP'S Bonzo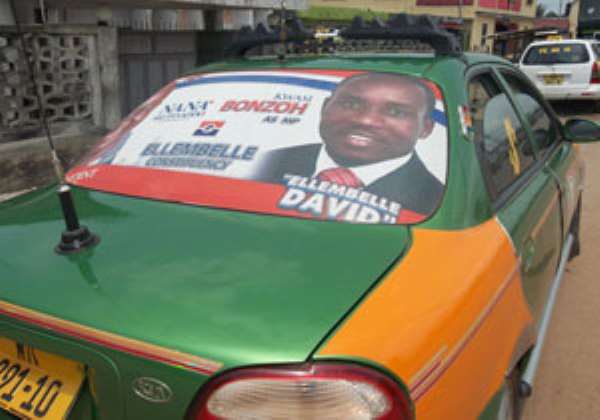 A taxi cab with Bonzo's poster
A cross-section of taxi drivers at the Esiama Lorry Station in the Ellembelle District of the Western Region has vowed to move from house to house to persuade people, especially young electorate, to vote massively for the area's NPP parliamentary candidate, Kwesi Bonzo, in the upcoming parliamentary elections.
A visit by DAILY GUIDE to the farming community last Friday revealed that almost all the taxi cabs at the Esiama main lorry park were embossed with posters and other paraphernalia of the NPP's parliamentary for Ellembelle, Kwesi Bonzo, popularly called 'Bonzo K'.
In an interview with DAILY GUIDE, most of the taxi drivers explained that they were so excited to have Bonzo's posters on their vehicles as they had been clamoring for someone as young as they were to represent them in Parliament.
'We were therefore so excited when we heard that a true native of our land and a young guy like us has been elected to represent us in parliament on the ticket of the NPP,' one of the drivers remarked.
Daniel Yankey, a popular taxi driver in the area, tasked the constituency executives to embark on a serious crusade to educate eligible voters to register in the biometric registration exercise because he believed that majority of the young electorate belonged to the NPP.
He said the prevailing economic hardship the people in the area were going through should ginger the youth who had turned 18 to massively register so that they would be able to vote and return the NPP to power to reduce their sufferings.
'Even though I am confident 'Bonzo K' will win the parliamentary seat for the area, considering his grassroots support, it will not be easy until we all fight to achieve total victory for him and the NPP.'
He called on the youth of Ellembelle to rally behind the NPP to ensure success for the party's presidential candidate, Nana Addo Dankwa Akufo-Addo, and Kwesi Bonzo, also referred to as 'Ellembelle David'.
Mr. Yankey called on all supporters of 'Bonzo K' to drum home the current economic situation in the country so as to win their brothers and sisters on the other side of the political divide to join the NPP for a change.
'Our brothers and sisters were deceived by the National Democratic Congress (NDC) in the 2008 elections and we need to bring them back into our fold so that the party would chalk more than the 51 percent mark in the coming 2012 elections,' he added.
He urged all NPP supporters to get involved in the house-to-house campaign which would soon be embarked on by the taxi drivers in the communities to solicit votes for the NPP.
 From Emmanuel Opoku, Esiama