Debate on nation's address still on course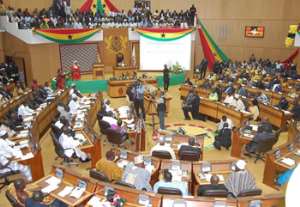 Accra, March 8, GNA – Debate on the President's State of the Nation address is still on course with the Majority praising the Government's performance on the economy and the Minority expressing dissatisfaction.
Mr Haruna Iddrisu, NDC Member for Tamale South, said the economy was full of promise, there was a lot to be done and substantial gains had been made.
He said there had been consistent growth in the annual Gross Domestic Product which meant the economy was expanding inclusive of the oil industry.
Mr Rapheal Kofi Ahaligah, NDC Member for Afram Plains South, said there was urgent need for dialogue and consensus for the National Health Insurance Scheme towards the proper sustainability of the scheme.
He said registration of clients on the scheme had increased from 600,000 to 17.5 million.
On the road sector, Mr Ahaligah said President Mills actually showed what had been done so far with regards to road construction, saying Pantang and Madina road was 45 per cent complete and Achimota-Ofankor 80 per cent complete.
Dr Richard Winifred Anane, NPP Member for Nhyiaeso, said the one time premium was not mentioned in the President's address and the National Health Insurance Scheme was near collapse.
He expressed concern about the construction works which when stalled could result in a lot of consequences.
Dr Anane said people appearing before the Public Account Committee hearing sometimes showed much ignorance about issues concerning the institutions they represented but there were handing over notes for any new head to have an idea about the situation at the institution.
Therefore, there was no reason why any head of an institution should show ignorance at such hearings.
Nana Akomea, NPP Member for Okaikwei South, said the reduction in inflation was not reflective of the cost of living of many Ghanaians.
He said in the previous NPP administration an Olonka of Gari used to cost one Ghana cedi now it is two cedis, a bag of maize used to be GHC20 now it is GHC100, cement was eight Ghana cedis but is presently being sold at GHC17, copy of Daily Graphic Newspaper which was 70 pesewas is now GHC1.50 pesewas and a ball of Kenkey used to be 20 pesewas now at 50 pesewas, 70 pesewas and one Ghana cedi at some places in the country.
Nana Akomea said all prices had gone up between 100 to 150 per cent adding that President Mills should endeavour to let the low inflation rate reflect in the cost of living.
GNA