Deal with troublemakers irrespective of political affiliation - Ofosu Ampofo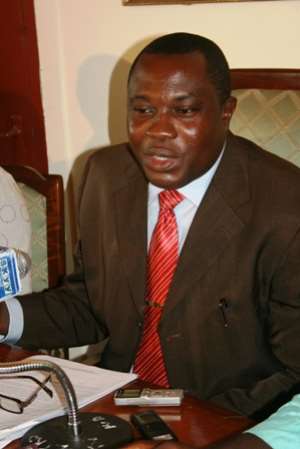 Tema, March 1, GNA – Mr. Samuel Ofosu Ampofo, Minister of Local Government and Rural Development, on Wednesday urged the Ghana Police Service to deal with anybody who foments trouble before, during, and after the elections, irrespective of their political affiliations.
Mr. Ampofo pointed out that for peace to prevail in the country, the Police Service must not leave troublemakers off the hook.
The Minister made the call when he addressed Police Personnel of the Tema Regional Police Command during the Command's Annual West African Security Services Association (WASSA) celebration.
He urged personnel to discharge their responsibilities professionally, devoid of politics.
He also appealed to the public to assist the Police towards the maintenance of peace, as Ghana was a beacon of hope and peace for West Africa.
Mr. Ampofo said government was prepared to provide the Service with the needed logistic support to ensure that peace was maintained in the country.
On the issue of shooting of police personnel at banks, he suggested that those on duty post should not be situated too close to ATM machines, since armed robbers could pose as customers withdrawing money, and in the process attack them.
The Local Government Minister explained that such duty posts must be situated at vantage points where the Police could easily monitor the activities of those who visit the premises, in order to act swiftly in the event of an attack.
Deputy Commissioner of Police (DCOP) Augustine Gyening, Tema Regional Police Commander, in a welcome address said the Command had had to contend with a number of criminal activities, including robbery, assault, and domestic violence, among others.
DCOP Gyening indicated that in spite of the Command's challenges, personnel were able to maintain peace and order in the region in 2011, adding however that it was unfortunate that the Command had experienced some serious robberies at the beginning of 2012.
He encouraged police personnel to continue to discharge their responsibilities professionally by comporting themselves irrespective of those challenges.
He gave the assurance that his outfit was prepared to ensure peace in the region during the December general election.
Mr. Robert Kempes Ofosuware, Tema Metropolitan Chief Executive who chaired the function, commended the Police for maintaining peace in the Metropolis in 2011.
Representatives from the other security services and some companies, as well as Nii Adjei Kraku the Second, Tema Mantse, graced the occasion.
GNA