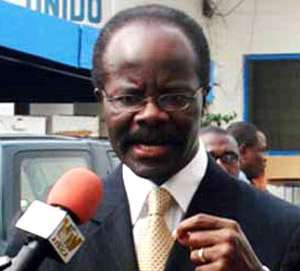 If there is one construct that best describes Dr. Kwesi Nduom's idiosyncratic behavior in the CPP, it is Machiavellianism. Deriving from the legacy of the 16th century Italian diplomat, playwright and philosopher, Niccolò Machiavelli, Machiavellianism is characterized by fraudulent political manipulation and personality traits of infantile disorder and self-absorption. In psychology, "me first," and psychopathic syndrome override collective ethos, commonsense and humility. In politics, inordinate ambition, deceit and hidden agenda are placed above lay-down structures and group interest, and the use of unscrupulous, cunning, egoistical, deceptive, dishonest and treacherous tactics to get ahead. A case in point is the National Convention of Nduom's PPP, designed to crown him as the "natural" PPP 2012 Presidential candidate, in direct contravention of the Political Parties Act 574.
Nduom's Deception About His Ph.D.
From Dr. Nduom's Personal Blog, we learn that "Dr. Nduom….obtained a Ph.D. in SERVICE DELIVERY SYSTEM (USI Program)" from the University of Wisconsin." In "African Confidential, Who's Who" Profile, we also gather that Dr. Nduom earned his "PhD in Service Delivery Systems, University of Wisconsin School of Business, 1982." This has led some Ghanaians to believe that Dr. Paa Kwesi Nduom has a Ph.D. in Economics, and therefore an economist. Fist of all, there is NO degree program in SERVIVE DELIVERY SYSTEMS at the University of Wisconsin-Milwaukee. Secondly, the (USI Program) that Dr. Nduom fails to spell out was actually a discipline known as URBAN SOCIAL INSTITUTION, now Urban Studies, at the University of Wisconsin-Milwaukee with a Ph. D. It was in this discipline, URBAN SOCIAL INSTITUTION, that Paa Kwesi Nduom earned his Ph. D in 1982. Therefore, Ph.D. in SERVICE DELIVERY SYSTEMS as found in Dr. Nduom's CV, as well as on his Personal Blog is totally FALSE. The requirement for the Ph.D. Program is 33 credits, beyond Masters Degree, with an additional field of specialization of 9 credits (3 courses). Among the twenty areas of specialization was/is HUMAN SERVICE DELIVERY SYSTEM. And for his dissertation, Paa Kwesi Nduom wrote on "Women in Municipal Management: Milwaukee Municipal Workforce." (Check University of Wisconsin-Milwaukee Libraries, HT. 99.N337x). So, why would Dr. Kwesi omit "HUMAN" from the Human Service Delivery Systems? This, in fact, is an act of deceit, if not immoral. And it is only a deceptive person with Machiavellian traits, who would systematically be nebulous about the discipline in which he earned his highest academic degree (Ph.D.). For this reason, it is EXTREMELY dangerous for such a person to aspire to be president of Ghana.
Dr. Nduom's Fraudulent Political Manipulation and Vote Buying.
The poisoned political atmosphere in the post-2008 election (the politics of insults, politicization of ethnicity, words of war, inter-party and intra-party warfare at the expense of national agenda) notwithstanding, the recent-past wrangling in the CPP can be traced to the covert and overt actions of Dr. Kwesi Nduom. This deceit, treachery and slyness, some of us saw, were calculated to destroy and prevent the CPP from becoming attractive to the growing interest in the party of Kwame Nkrumah as shown by the present generation, especially those looking for an alternative party to the NDC and NPP, as well as those yearning for the return of a CPP government.
Soon after the 2007 National Congress in Kumase, some of the delegates became dejected because of the major role money played in Dr. Nduom's winning the election to become the Party's presidential candidate. The CPP General Secretary, Mr. Greenstreet, validated this vote-buying craze when he recalled that, "on his way to secure the flagbearership position of the CPP, Dr. Nduom bought the nomination with a methodical plan, paying the delegates for their votes." With this master plan, Dr. Nduom was "way out ahead of the party apparatus, fending for himself, and at the same time, leaving CPP parliamentary candidates on their own to fight for their survival," (my North Abuakwa constituency included). Thus, "Paa Kwesi Nduom's 'One-Man Show' campaign style for the presidency….in the run-up to the 2008 general election, was rather hurting the fortunes of the party than promoting it" (see Wikileaks).
Benjamin Nketsia also noted on July 19 2011 that CPP "candidates who want to win at constituency and regional levels now present themselves as Nduom supporters to have a greater chance of success. The proof of this is that the majority of executives elected so far have won the support and endorsement of Dr. Nduom (see "Which Direction, Dr. Nduom And CPP?" Ghanaweb.com, 4 July 2011). One caption had this: "Nduom is Using Money to Buy the Intelligence of CPP Executives" (see Ghanaweb.com, 21 August, 2011). Professor Akosa also indicted Dr. Kwesi Nduom, for "using his financial stature to buy his way to the flag-bearer position of the party." Thus, "some of the delegates have "come through with signed 'First National Bank' cheques" (see July 19, 2011 edition of the Citi Eyewitness News). If Dr. Nduom can corrupt an intra-party elections, imagine what he would do if elected president of Ghana (God forbid it). His recent bribing of supporters of his newly formed PPP with GH2, 000 each (as an incentive) to register people for the party is an amoral and dishonest tactic, and should be condemned by all stakeholders, especially the other political parties and Electoral Commission.
Nduom's Sly Manipulation and Vindictiveness: The Case of Hon. Samia Nkrumah.
Sometime in 2007, Dr. Nduom went to Italy to solicit Samia Nkrumah's endorsement of his (Nduom's) ambition to become the flag-bearer of the CPP. Also, according to "African Confidential: Profile," Dr. Nduom failed to convince "Samia Nkrumah…….to run alongside him in the 2008 elections." But given her father's name, Ms. Samia Nkrumah told Dr. Nduom that she needed to go to Ghana and assess the situation for herself. Upon her arrival, Dr. Paa Kwesi Nduom tried to convince Samia Nkrumah to take over the KEEA constituency from him (in order to make room for the then Hon. Freddy Blay at the Elembele Constituency). Nonetheless, Ms. Nkrumah, after consultation with her kinsfolk, decided to contest the seat in Jomoro constituency, her paternal grandfather's hometown of Half-Assini. Throughout her campaign, she received no support from the Party's leadership. But an unintended situation about Dr. Nduom's planned visit to the Jomoro constituency, when he knew well via the Party's Chairman that Ms. Samia Nkrumah was at the time in Accra, did not sit well with Nduom. In this case, the former had asked her campaign team to welcome him and organize a rally for him. Yet, this resulted in the resignation of the constituency chairman of the CPP, who was subsequently recruited into Kwesi Nduom's Movement for Social Justice (MSJ) to sabotage Samia Nkrumah's campaign. To this end, the MSJ organized a parallel team and started writing very negative letters to embarrass and terrorize her right up to the constituency elections. As if this was not enough, just next door to Hon. Nkrumah's microfinance company set up for the people in her constituency, Dr. Nduom quickly moved to set up his First National Bank to duplicate the ventures of the former's company.
But what broke the camel's back was Hon. Samia Nkrumah's decision to contest for the Chairmanship of the Party. "Over my dead body," Dr. Kwesi Nduom's was quoted as saying. In this case, Dr. Nduom's business apparatus tried hard to destabilize her campaign, contending that she was incapable [as a woman perhaps] of combining the tasks of an MP and the Chairmanship of the Party at the same time. Then in the run up to the 2011 National Delegates Congress to elect the CPP National Executive, Dr. Nduom's MSJ organized vile campaign against her over a bridge she had allegedly promised to repair, as indicative of a failed promise. To this end, Nduom's MSJ, it is believed, paid NPP and NDC constituents to join the campaign. But as soon as Samia Nkrumah won the election by landslide, Dr. Nduom wrote to her (Samia) requesting for a one-on-one meeting and threatened her, we were told, that if she did not cooperate with him, he would organize his support in the leadership (First Vice-Chair, Women's organizer and Youth organizer) against her. Yes, that was Machiavellianism at work.
Nduom's Betrayal: Choosing Bermuda over Abuakwa North, July 2008.
While in Ghana in the summer of 2008, I had the honor to host Dr. Abu Sakara, the then 1st Vice-Chairman of the CPP and the National Organizer, Ms. Evelyn Anabila from the National Headquarters and other CPP members in my residence at Ettokrom in the North Abuakwa Constituency. We later took them to pay homage to the late Opanin Yaw Manu Sowa, the heroic and indomitable CPP activist in Abuakwa Central and Workers Brigade Camp Commander. In reaching Osiem, people (including hawkers, taxi drivers and bookmen etc.) started chanting "CPP, CPP, CPP." Prior to this, we had developed a plan for Dr. Kwesi Nduom to visit North Abuakwa Constituency to coincide with the biggest event in Akyem Abuakwa in July. It was while we were in the presence of the revered Opanin Sowa that he told the Abuakwa Executive (made up of some recent graduates at the time) and delegation that "with a little effort, the CPP will win Abuakwa North", which was possible. So impressed was Dr. Sakara that he decided to returned to Accra to put the date on Dr. Nduom's itinerary. When information reached us that Mr. Ladi Nylander was willing to come in place of Dr. Nduom, if necessary, we said "NO." To cut matters short, I went to the party's Headquarters where the National Organizer, Ms. Evelyn Anabilla took me to meet with Dr. Nduom. On our arrival at his business premises, Dr. Nduom had no time for us, saying that he would be traveling to Bermuda on that date. "What, Bermuda?" I asked myself.
To avoid serious embarrassment and shame, Nana Adusei Peasah of Canada (Now Gyasehene of Osiem), who bought a vehicle to campaign for the CPP in the constituency and some part of the Eastern Region, also went to the CPP headquarters in Accra to get the CPP Executive to persuade Dr. Nduom to honor our request and Dr. Sakara's pledge, but it was to no avail. Yes, going to Bermuda was more important to Dr. Nduom than going to Abuakwa North as the CPP flag-bearer. Why? Bermuda is the dependent territory of the United Kingdom, which provides "investment" jurisdictional tax haven for about 11, 000 foreign registered companies. So, did that mean that Dr. Paa Kwesi Nduom's Deloitte & Touche have any offshore account or personal business connection in Bermuda? Your guess is as good as mine.
The Infamous Treacherous, Anti-CPP Speech at Abura Press by Nduom's Wife.
The most telling about Nduom's anti-CPP stand was his wife, Yvonne Nduom's September 27, 2008 speech at the Abura Printing Press in Kumase, praising the publisher of "The Pioneer," the mouth piece of the ferocious anti-CPP, terrorist, "Ma te me ho," secessionist NLM, "for its immense role in sustaining Ghana's democratic dispensation," and for managing "to keep its composure and policy direction in the dissemination of information which had enhanced the nation's progress." What made this speech an awful perfidy was that it paralleled Dr. Nduom's campaign tour in the Asante Region. Right away, the CPP executive etc. should have summarily impeached and sacked Dr. Nduom from the CPP for Dr. Abu Sakara to become the Party's flag-bearer towards the December general election. What an infiltrator!
Self-Absorption, Inordinate Ambition, Egomaniacs and "Me First" Syndrome.
After the 2008 election, instead of allowing the national executive to take stock of the terrible low performance of the CPP, Dr. Nduom covertly started his presidential ambition by stealthily campaigning for 2012 election. What we witnessed were systematic nonsensical statements by Nduom, press releases from his business office, articles by faceless characters or ghost names as authors. Some of the captions went as follows: "Nduom is the best," "Nduom is the influential figure." The silliest of them was the piece by one Bawa Yussif with the caption: "No Nduom, No CPP." One of his Nduom's acolytes, Nkunim, Nii Amarh went further to assert that: "If anyone in the 4th Republic has suffered, sacrificed to ensure the existence of a party called the CPP in Ghana, it is Dr. Nduom. Without the 'movement' formed by him, there would not be any CPP in most of the country" (see Ghanaweb.com, 12 May, 2011). But, according to the Daily Guide newspaper's report, Dr Nduom "was clandestinely using the movement to shore up his bid to lead the party again when the CPP goes to congress to select a presidential candidate for the 2012 general election" (see Ackon's "CPP Must Think About Victory First" Ghanaweb.com, 12 May, 2011). Among the post-National Delegates Congress premature agitation by Nduom's gangs for an early National Congress to elect the Party's flag-bearer was an article by one Samuel Boateng of Kukurantumi, unknown to the North Abuakwa Constituency executive.
Dr. Paa Kwesi Nduom as an Infiltrator Into the CPP.
First of all, by Ghanaian standard, Dr. Nduom is a big time capitalist with possible covert business connections outside of the shores of Ghana; and this hanker after personal wealth do not concur with the ideals and values of the CPP. At the time some of us were making sacrifices to unify the fragmented Nkrumahist political parties represented by the Technical Team (headed by Professor George Hagan and the deliberations at Professor Delle's Rabito Clinic), Dr. Paa Kwesi Nduom and his Washington-based Deloitte & Touche Consultants were enjoying the spoils from "defrauding" Ghana in their transactions with the State Enterprise Commission (SEC). As Prof. Araba Moustache has revealed, Dr. Nduom then residing in Virginia in the USA, defrauded the government and people of Ghana by working "for SEC on the SOERP with the following address: "Dr. P. Kwesi Nduom, Deloitte & Touche, 1900 M Street NW, Washington, DC 20036 (for details, please see Moustache, Araba, Ghanaweb.com, "NDUOM and the Serious Fraud albatross," Parts 1 and 2). It was for this reason that Ama Ohene asked for the resignation of Nduom from the CPP, especially his "complicity in the cover-ups concerning his possible criminal culpability in the instances of the SFO findings against him" (see "Nduom Must Resign," Ghanaweb.com, 4 January, 2009). Readers should be reminded that Dr. Nduom, while working for the SOERP, asked "to be treated as a 'Foreign Consultant' and…..to have his earnings from the consultancy transferred abroad (see Moustache, Araba, Ghanaweb.com, "NDUOM and the Serious Fraud albatross," Part 2). Certainly, Dr. Nduom's gold-digging actions are antithesis to the criteria of membership and leadership, let alone the flag-bearership, of the CPP.
The question is, was Dr. Paa Kwesi Nduom a CPP or Nkrumahist? The answer is, "NO." His reason for joining is revealed in an article by one Agyeman. Thus a few years after "defrauding" the people of Ghana with his Deloitte & Touche, Dr. Nduom at first "wanted to contest on the ticket of NPP as the parliamentary candidate," but realized that the NPP would "not look his wealth in the area to elect him as their parliamentary candidate." The NDC, on the other hand, had Ato Arthur in place; so, the only alternative left for him was to join the CPP as a matter of convenience to become its parliamentary candidate (see "Ndoum is Using Money to Buy the Intelligence of CPP Executives," Ghanaweb.com, 21 August, 2011). A wolf in sheepskin indeed!
It is therefore not surprising to some of us that Dr. Paa Kwesi Nduom, after realizing that his fraudulent political manipulation and indiscipline would not be tolerated by Hon. Samia Nkrumah and her team, suddenly decided to form his own PPP. The general Secretary of the CPP, Mr. Ivor Greenstreet best explicated this when he said that "even during the campaign, prior to congress, Dr. Nduom even made it clear to the rank and file in the Northern region that if the person he wanted to become chairman did not win, then he would not contest or he would resign, so I think all along he felt if he didn't get his way then he'd find a way of going through the exit door."
The question, therefore, is what happened to Dr. Nduom's statement that "We are exploring means to get all Nkrumaists on board and you will see a much more vibrant CPP in 2012?" Certainly, the answer is NOT with Dr. Paa Kwesi Nduom and his Machiavellian tactics.
Stay Tuned!
Dr. Kwame Botwe-Asamoah is the author of the award-winning book, Kwame Nkrumah's Politico-Cultural Though and Policies: An African-Centered Paradigm for the Second Phase of the African Revolution